Nach all den wirklich tollen Überraschungen und den beeindruckenden Ankündigungen der Stargäste für die Noris Force Con 4 im September, hat das Organisations-Team rund um den SWFN e.V. heute einen weiteren Hammer veröffentlicht.
Die Hasbro 6 inch-Version eines brandneuen First Order Stormtroopers aus The Force Awakens war vor wenigen Tagen exklusiv nur auf der San Diego Comic Con erhältlich. Endlose Warteschlangen bildeten sich vor dem Hasbro-Stand, weil dieser First Order Stormtrooper die allererste offizielle Actionfigur zu Episode VII ist. Alle Fans, die leider nicht an der SDCC 2015 teilnehmen konnten, müssen nun auf eBay schauen und im schlechtesten Fall richtig tief in die Tasche greifen, um den Stormtrooper noch zu bekommen.
Nun wurde vor wenigen Minuten offiziell bekannt gegeben, dass alle Besucher der diesjährigen Noris Force Con 4 in Nürnberg ebenfalls die Chance auf einen Hasbro First Order Stormtrooper aus der The Black Series haben. Dank der Hauptsponsoren Hasbro und Heo wird die Figur zu einem bis dato unbekannten Preis in limitierter Auflage direkt vor Ort erhältlich sein.
Wenn das mal nicht der Hammer des Tages ist!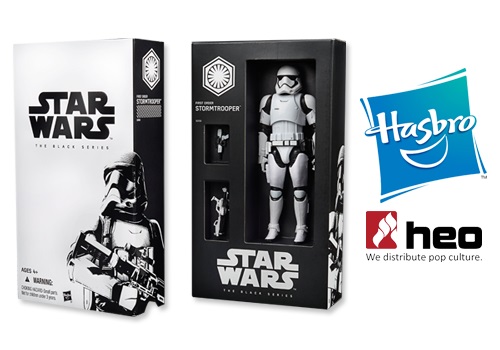 Alle wichtigen Informationen zu Noris Force Con 4, der Star Wars Convention von Fans für Fans, die vom 11. bis 13. September 2015 in Nürnberg stattfindet, könnt Ihr auf unserer Special-Seite nachlesen.
Unser Telegram-Newsletter
Du möchtest zu aktuellen Sammler-News und brandheißen Star Wars-Deals immer direkt auf deinem Smartphone benachrichtigt werden?
Aktuelle Deals bei Amazon.de
---