Bereits vor einigen Wochen ist ein ominöses Foto eines "Jabba's Rancor Pit" Sets aus Hasbros The Black Series aufgetaucht. Niemand wusste, ob es sich bei dem Bild nur um einen Fake handelt oder ob man in absehbarer Zeit tatsächlich mit der Veröffentlichung dieses riesigen Figuren-Sets rechnen kann.
Nun ist im Rebelscum-Forum ein weiteres Foto aufgetaucht. Der User "Holographic_Elvis" hat ein ziemlich scharfes Bild, des Sets gepostet. Im Black Series Rancor Pit sind natürlich der Rancor, sowie Jabba the Hutt, Slave Leia, C-3PO und Luke Skywalker enthalten. Durch die Hand am linken unteren Bildrand kann man sich nun auch ungefähr vorstellen, wie groß die Box und die darin enthaltenen Figuren sein werden. Ziemlich beeindruckend, wie wir finden. Aber seht selbst: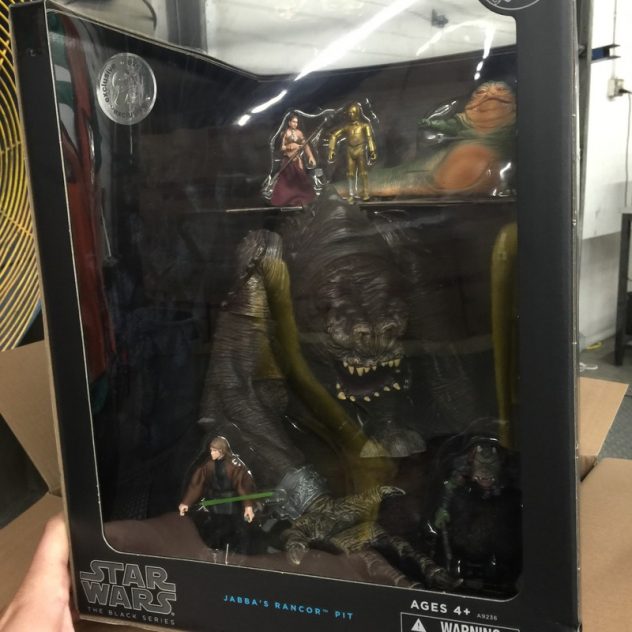 Nicht zu übersehen ist der glitzernde Sticker auf der Box, der auf ein Exclusive hinzuweisen scheint. Der User weist in dem Thread ebenfalls darauf hin, dass es sich um ein "Comic Con"-Produkt handele und das es für 130,00 US-Dollar erhältlich sein wird. Man kann jedoch davon ausgehen, dass es nach der Convention auch im Handel erhältlich sein wird.
Noch ist nicht Genaueres bekannt. Sobald wir mehr wissen, werden wir es natürlich veröffentlichen.
Unser Telegram-Newsletter
Du möchtest zu aktuellen Sammler-News und brandheißen Star Wars-Deals immer direkt auf deinem Smartphone benachrichtigt werden?
Aktuelle Deals bei Amazon.de
---