Am 18. Dezember 2015 wird Star Wars: The Force Awakens in die Kinos kommen. Fast genau so sehr wie den Film selbst, erwarten die Fans und Sammler weltweit auch das neue Merchandise zum siebten Teil der Krieg der Sterne Saga. Vor wenigen Wochen erfuhren wir bereits, wie das Verpackungsdesign aussehen wird und das mit einem weltweiten Verkaufsstart am 04. September 2015 um 00:01 Uhr gerechnet werden kann.
Natürlich sickern immer mal wieder Gerüchte zu bevorstehenden Veröffentlichungen der großen Hersteller durch. So kam es auch, dass wir bereits vor einigen Monaten wussten, dass die LEGO Group gleich zu Beginn mindestens sieben Sets zu The Force Awakens veröffentlichen wird. Die Setnummern 75099 bis 75105 sind schon lange bekannt. Auch konnte bereits in Erfahrung gebracht werden, aus wie vielen Einzelsteinen jedes Set bestehen wird und wie teuer sie voraussichtlich sein werden. Die einzigen Details, die bis jetzt strengstens unter Verschluss blieben, sind die offiziellen Namen der Sets und natürlich die heiß erwarteten Bilder.
Vor wenigen Stunden postete ein Facebook-User nun endlich ein erstes Bild in die Gruppe "Club SWU", der Star Wars Underworld Fan Community. Darauf ist erstmals das Set LEGO Star Wars 75104, welches bis dato unter dem Decknamen "Lead Villain Vehicle" bekannt war, abgebildet.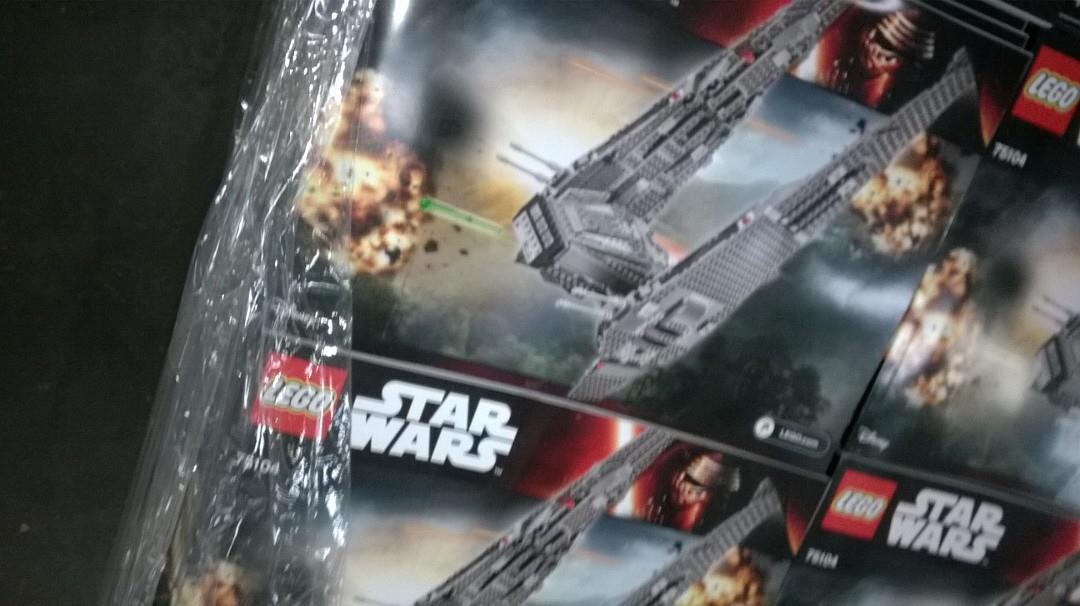 ---
In der Community wird nun davon ausgegangen, dass es sich bei diesem Set um Kylo Ren's Raumschiff handeln könnte. Das macht angesichts des bisher bekannten Decknamens natürlich Sinn. Doch das Interessante an diesem Bild ist nicht nur das eigentliche Set, sondern auch die Aufmachung der Bedienungsanleitung, denn nun wissen die Fans und Sammler weltweit ebenfalls, wie das neue Verpackungsdesign der LEGO Star Wars Sets aussehen wird.
Ein Bild und so viele neue Erkenntnisse. Wir sind gespannt, was da noch auf uns zukommen wird. Ihr auch?
Unser Telegram-Newsletter
Du möchtest zu aktuellen Sammler-News und brandheißen Star Wars-Deals immer direkt auf deinem Smartphone benachrichtigt werden?
Aktuelle Deals bei Amazon.de
---