Alle Jahre wieder produziert LEGO diverse Mini-Sets in limitierten Auflagen, die es nur auf großen Messen zu erwerben gibt. Einige solcher Convention Exclusives waren auch während der San Diego Comic Con 2015 am Stand von LEGO erhältlich. Neben einem Superman- und einem Avengers Age of Ultron Mini-Set wurde auch ein LEGO Star Wars Dagobah Mini-Set mit X-wing Fighter angeboten. Aufgrund der Limitierung (meist 1.000 Exemplare weltweit) werden die meisten LEGO Star Wars Fans an den Tagen nach der SDCC 2015 bei eBay die Augen offen gehalten und im schlechtesten Fall mehr als 100 € plus Versand aus den USA bezahlt haben. Für alle Fans, die leider nicht an der SDCC teilnehmen konnten, ist die Chance auf das Set also sehr gering.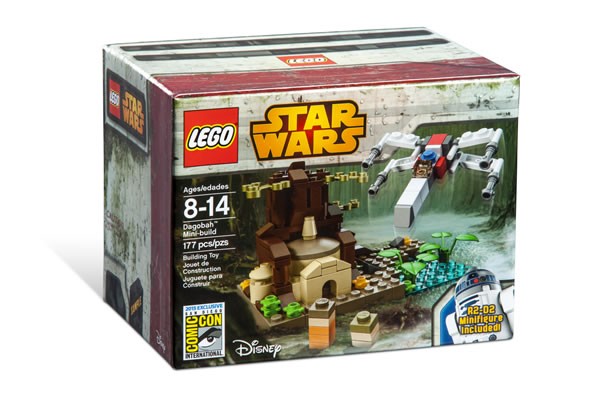 Vor wenigen Tagen bemerkten die Kollegen von Promobricks dann, dass man zumindest den X-wing nachbauen kann, indem man sich einfach das neue LEGO Star Wars Magazin am Kiosk besorgt. Darin ist nämlich exakt das gleiche Modell enthalten. Fehlt also nur noch das Dagobah Set.
The Brick Fan hat nun glücklicherweise vor einigen Tagen die originale Bauanleitung sorgfältig abfotografiert und in einem Flickr-Album zur Verfügung gestellt. Die Anleitung wurde zusätzlich auch gescannt und auf der Website für jedermann zum Download bereitgestellt. Wenn Ihr also Glück und Ausdauer habt und alle benötigten Einzelsteine zusammen sammelt, dann steht Eurem ganz eigenen LEGO Star Wars Dagobah Mini-Set nichts mehr im Wege.
Unser Telegram-Newsletter
Du möchtest zu aktuellen Sammler-News und brandheißen Star Wars-Deals immer direkt auf deinem Smartphone benachrichtigt werden?
Aktuelle Deals bei Amazon.de
---