Nachdem erst am Donnerstag ganz offiziell eine neue Boba Fett Figur im Maßstab 1:4 vorgestellt wurde, kam gestern ganz überraschend eine neue Sideshow Chewbacca Premium Format Figur zu Star Wars: The Force Awakens ans Tageslicht.
Die neue große Sideshow Chewbacca Premium Format Figur wurde im Blog des Herstellers bereits mit einigen Bildern vorgestellt, bevor am 06. April dann die weltweite Vorbestellungsphase beginnen wird. Der ohnehin schon große Wookiee wird im Maßstab 1:4 knappe 59 Zentimeter groß sein. Er steht auf einer schicken Base, die an die "we are home"-Teaserszene zu The Force Awakens im Millennium Falcon angelehnt ist.
Die Statue wird vollständig aus Kunststein gefertigt und mit Armbrust und Ledertasche ausgerüstet sein. Wie eben schon erwähnt, wird am kommenden Donnerstag, den 06. April die weltweite Pre-Order starten. Die neue Sideshow Chewbacca Premium Format Statue wird dann für $499.99 zu haben sein. Hier nun die Bilder.
---
Zusätzlich ist in der Galerie übrigens ein Bild zu finden, in dem im Hintergrund eine bisher unbekannte Han Solo Figur zu sehen ist. Die Pose des Protagonisten erinnert ebenfalls stark an die Szene im Falken. Dies könnte das erste Anzeichen auf eine neue Han Solo PF sein. Wir sind gespannt und halten euch selbstverständlich auf dem Laufenden.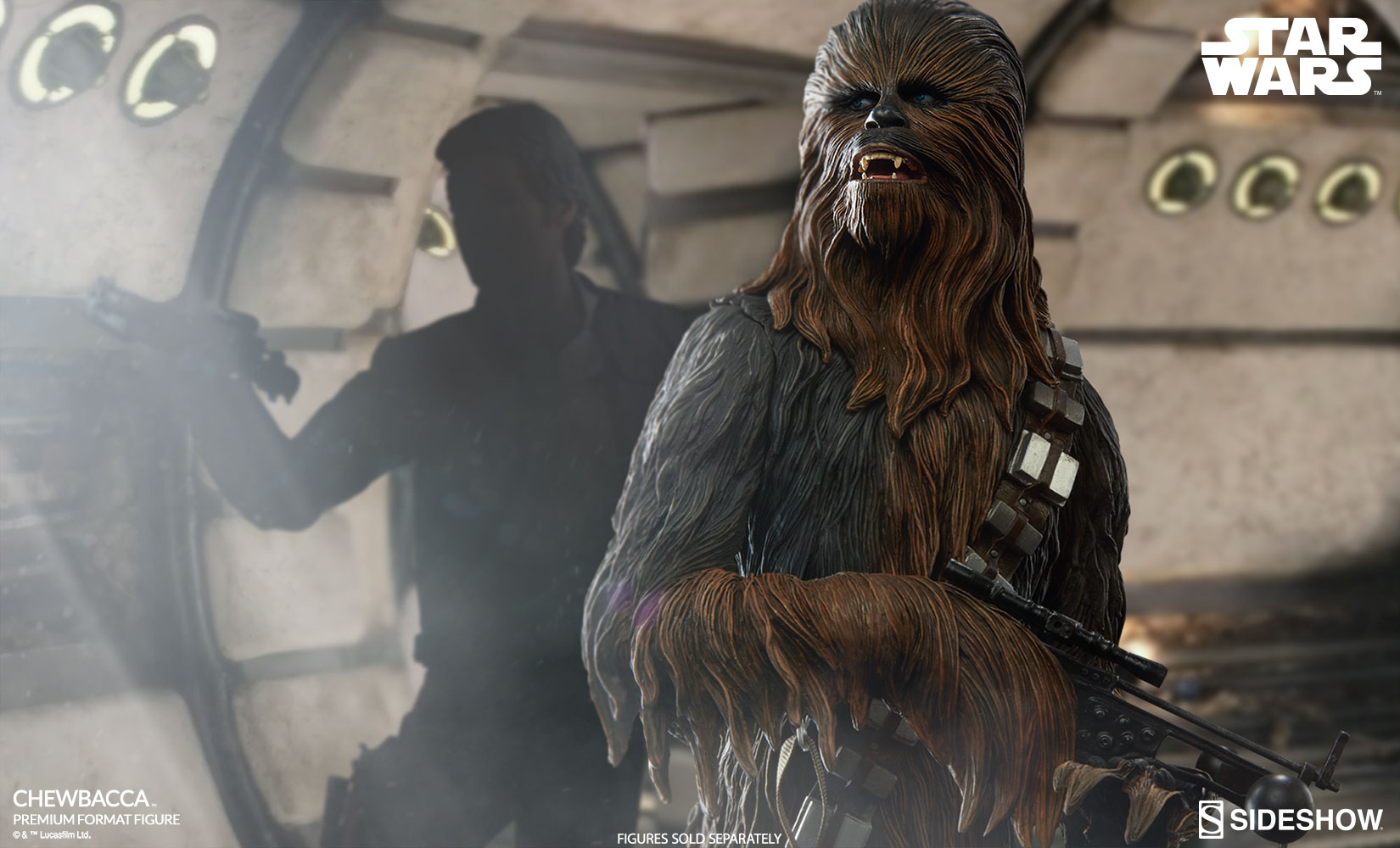 ---
Die wichtigsten Informationen zu allen bisher veröffentlichten Sideshow Star Wars Premium Format Figuren findet ihr kurz und knapp im Collectors Guide.
Unser Telegram-Newsletter
Du möchtest zu aktuellen Sammler-News und brandheißen Star Wars-Deals immer direkt auf deinem Smartphone benachrichtigt werden?
Aktuelle Deals bei Amazon.de
---