Im Laufe des Tages wurde auf der Hersteller-Website ein neuer Funko POP! Darth Vader with TIE Fighter Deluxe Wackelkopf vorgestellt. Die Neuankündigung trägt die Nummer 176 und reiht sich damit nahtlos in das bisherige POP! Star Wars Aufgebot ein.

Nachdem in den vergangene Wochen bereits die beiden Deluxe Wackelköpfe von Rey mit ihrem Speeder und Luke mit seinem Landspeeder veröffentlicht wurden, liefert der Hersteller nun eine weitere Deluxe Variante für die beliebte Reihe. Dabei sitzt Darth Vader in seinem TIE Advanced und wackelt mit dem überdimensionalen Kopf.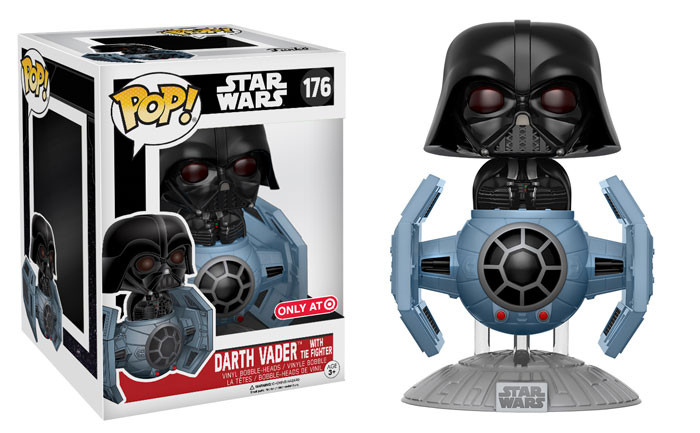 Leider handelt es sich auch hierbei wieder um ein Exclusive für die amerikanische Shoppingkette Target. Der Funko POP! Darth Vader with TIE Fighter Deluxe Wackelkopf wird dort im Juni erscheinen und wenig später auch hierzulande verfügbar sein. Der "Exclusive"-Status lässt den Preis allerdings immer etwas höher ausfallen, als bei regulär verfügbaren Figuren.
Sobald es eine Information zu Preis und Verfügbarkeit gibt, melden wir uns wieder.
Die wichtigsten Informationen zu allen bisher veröffentlichten Funko POP! Star Wars Wackelköpfen erhaltet ihr kurz und knapp in unserem Collectors Guide.
Unser Telegram-Newsletter
Du möchtest zu aktuellen Sammler-News und brandheißen Star Wars-Deals immer direkt auf deinem Smartphone benachrichtigt werden?
Aktuelle Deals bei Amazon.de
---