Vor wenigen Tagen wurde ein neuer Funko POP Max Rebo Wackelkopf vorgestellt. Der Leiter der Max Rebo Band ist das erste Star Wars Collectible der sogenannten neuen Funko Specialty Series.
Der blaue Ortolaner (danke Jedipedia) wird in den kommenden Wochen veröffentlicht. Das Besondere ist allerdings die Zugehörigkeit zur Specialty Series.
Why is it so special? You'll only be able to find these Specialty Series
exclusives in boutique retail, specialty stores, local comic book shops and
from qualified online retailers. This is your chance to help support local businesses
and smaller retailers, and you'll pick up an amazing exclusive item in the process!
Mit dieser Serie möchte der Hersteller also vor Allem die lokalen Händler unterstützen. Die Collectibles werden nur bei ausgewählten Online Shops, Comichändlern und in diversen lokalen Geschäften zu finden sein. Welche Möglichkeiten uns hierzulande zur Verfügung stehen werden, bleibt noch abzuwarten. Der neue Wackelkopf wird allerdings jetzt schon zu teilweise unverschämten Preisen bei eBay angeboten.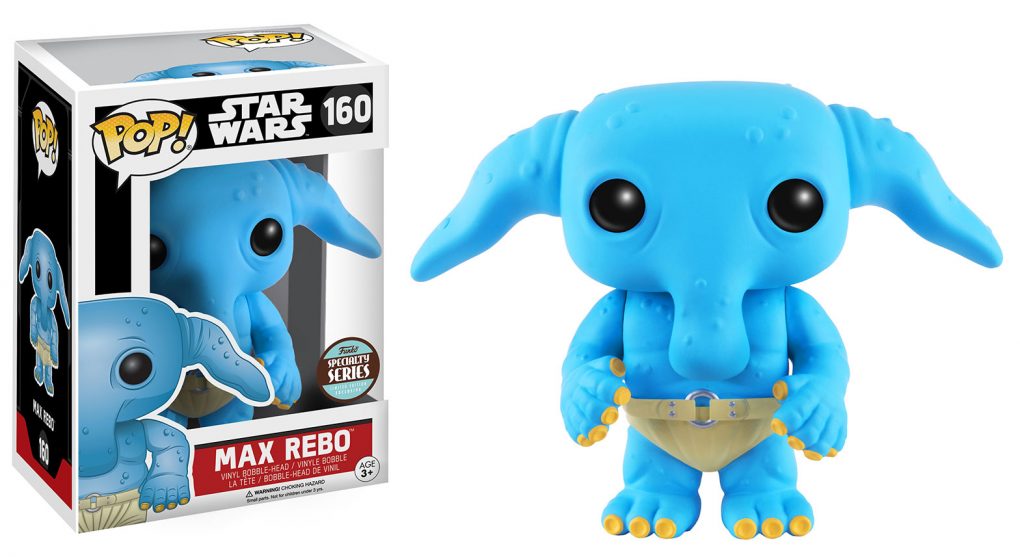 ---
Die Funko POP Max Rebo Figur trägt die Nummer 160. Die Nummerierung erschließt sich mir dabei aber nicht ganz. Der letzte mir bekannte Star Wars Wackelkopf ist nämlich der Dagobah Yoda mit der Nummer 124. Wisst ihr mehr? Lasst es mich per Kommentar wissen.
Alle Informationen und eine große Übersicht zu allen bisher veröffentlichten Funko POP! Star Wars Wackelköpfen findet ihr im Collectors Guide.
Unser Telegram-Newsletter
Du möchtest zu aktuellen Sammler-News und brandheißen Star Wars-Deals immer direkt auf deinem Smartphone benachrichtigt werden?
Aktuelle Deals bei Amazon.de
---