Kurz nach der San Diego Comic Con kommt Hersteller Funko mit einem neuen schicken TIE Fighter with TIE Pilot Deluxe Wackelkopf um die Ecke. Dieses Mal sogar ohne Exclusive-Status.

Vor wenigen Stunden wurde der Blog des Herstellers aktualisiert. Dabei herausgekommen ist ein ganz besonderes Schmankerl für Star Wars Fans. Im September erscheint ein neuer POP! TIE Fighter with TIE Pilot Deluxe Wackelkopf im regulären Handel. Kein Händler- und kein Convention-Exclusive. Ungewöhnlich, aber schön für alle Fans der Reihe.
Mehr zum Thema: Funko POP! Darth Vader with TIE Fighter Deluxe vorgestellt
Ungewöhnlich ist auch die Nummer der Neuankündigung. Der TIE Fighter Deluxe trägt Nummer 221, während die letzte reguläre Nummer in der POP! Star Wars Reihe der Combat Assault Tank Trooper mit der Nummer 184 ist. Die Nummern dazwischen könnten auf die kommenden "The Last Jedi" Wackelköpfe deuten, von denen bis jetzt leider nichts bekannt ist.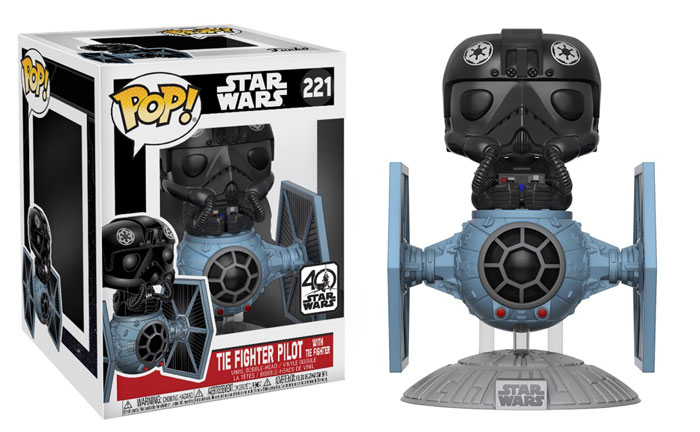 Übrigens: Unser Partnershop BlacksBricks.de hat seit wenigen Minuten den SDCC 2017 Exclusive Bodhi Rook Wackelkopf im Angebot. Schaut gleich mal vorbei.
Die wichtigsten Informationen zu allen bisher veröffentlichten Funko POP! Star Wars Wackelköpfen erhaltet ihr kurz und knapp in unserem Collectors Guide.
Unser Telegram-Newsletter
Du möchtest zu aktuellen Sammler-News und brandheißen Star Wars-Deals immer direkt auf deinem Smartphone benachrichtigt werden?
Aktuelle Deals bei Amazon.de
---