Nachdem erst vor wenigen Tagen eine vermeintliche Stormtrooper 6″ Figur aus Episode VII für über 1.000 US-Dollar bei eBay ersteigert wurde, tauchen nun erste Verpackungsbilder einer The Force Awakens First Order Stormtrooper Figur aus Hasbros The Black Series auf. Die Sammlerkollegen von JediInsider.com haben heute insgesamt fünf hochauflösende Bilder der Box samt Figur gepostet.
Die Box ist komplett schwarz-weiß gehalten und hat einen Deckel, den man abheben muss, um die Figur in Augenschein zu nehmen. In der Box findet man dann die Figur, einen Blaster und ein Blastergewehr in drei einzelnen Aussparungen untergebracht. Durch die wertige Aufmachung der Box gehen viele Fans nun davon aus, dass es sich hierbei um ein San Diego Comic Con Exclusive handeln könnte.
Wir zeigen Euch hier nur ein Bild. Die zusätzlichen Bilder seht Ihr nach dem Klick auf JediInsider.com.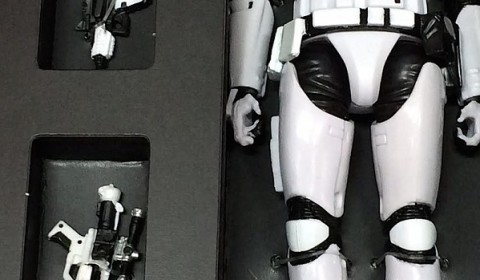 Zusätzlich zu den großen Bildern bei JediInsider.com wurden von der Facebook-Seite Star Wars The Black Series weitere 4 Bilder gepostet, die nicht ganz so hochauflösend, aber dafür nicht weniger interessanter sind. Diese wollen wir Euch nicht vorenthalten.
---
Was denkt Ihr? Handelt es sich bei den Bildern um ein Convention Exclusive oder werden wir die Figur bald in dieser schicken Verpackung ganz regulär im Handel erwerben können?
Unser Telegram-Newsletter
Du möchtest zu aktuellen Sammler-News und brandheißen Star Wars-Deals immer direkt auf deinem Smartphone benachrichtigt werden?
Aktuelle Deals bei Amazon.de
---