Vor wenigen Tagen ist ein erstes Bild eines Hot Toys Gold Chrome Stormtroopers aufgetaucht, der in einem Schaufenster in China ausgestellt war. Während in den vergangenen Tagen immer neue Fotos gepostet wurden, hat der Hersteller heute nun das Geheimnis gelüftet.
Hot Toys öffnet morgen den ersten Flagship Store in Shanghai. Aus diesem Grund wurde mit dem Hot Toys Gold Chrome Stormtrooper eine exklusive Figur präsentiert, die nur dort erhältlich sein wird. In unseren Augen (und auch in den Augen vieler verärgerter Facebook-User) wird hier wieder einmal mit einer schlichten Neuauflage mit anderem Paintjob Geld gemacht. Zum Preis sind aktuell noch keine Informationen verfügbar.
Hier nun die offiziellen Bilder und der dazugehörige Pressetext zum Hot Toys Gold Chrome Stormtrooper.
---
Hot Toys is thrilled to announce its first new flagship store in Shanghai, China is officially opening tomorrow!

To commemorate this great milestone, we are putting a "Midas" touch to the classic Stormtrooper armor of the Star Wars saga and delighted to present a special gold chrome 1/6th scale Stormtrooper collectible figure as a Hot Toys Exclusive item only available at our new store for the Asia Pacific region!

This lustrous collectible figure is specially crafted based on the image of Stormtrooper in Star Wars featuring the iconic armor design in brilliant gold chrome finish, fabric bodysuit, a blaster rifle, and a hexagonal figure stand with golden Imperial emblem.

This exquisitely colored Stormtrooper will surely stand out in any Star Wars collection!

Hot Toys Shanghai Flagship Store:
Address: No. 835, Lakeshore, Disneytown, Lane 255, West Shendi Road, Pudong New Area, Shanghai
Hours: Monday to Sunday 10am-10pm
UPDATE: Der goldene Stormtrooper wurde nun auch von Sideshow geteasert. Da der amerikanische Hersteller für die weltweite Distribution von Hot Toys Produkten verantwortlich ist, werden wir die Figur auch hierzulande ganz normal bestellen können. Pre-Order Start ist der 23.06.2016. Von wegen "Exclusive"…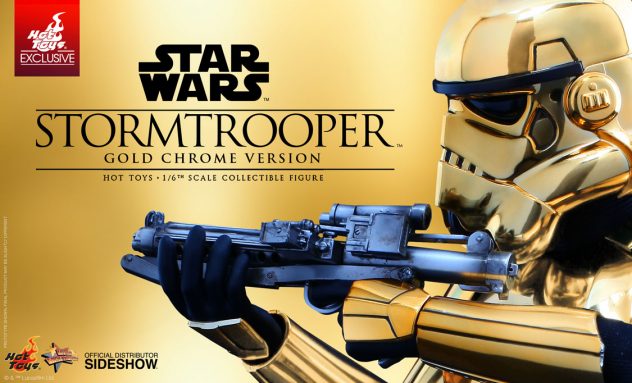 Unser Telegram-Newsletter
Du möchtest zu aktuellen Sammler-News und brandheißen Star Wars-Deals immer direkt auf deinem Smartphone benachrichtigt werden?
Aktuelle Deals bei Amazon.de
---