Bereits zum vierten Mal fand vom 11. bis 13. September 2015 die Noris Force Con in Nürnberg statt – eine Veranstaltung der Star Wars Fans Nürnberg e.V.. Unseren Erlebnisbericht und viele Fotos findet Ihr hier: Noris Force Con 4 – Ich war dabei!
Die Noris Force Con ist eine Convention von Fans für Fans. Der gesamte Reinerlös geht an den Kinderschicksale Mittelfranken e.V.! Dieser Verein unterstützt schwer behinderte und kranke Kinder mit deren Eltern. Als kleine 2002 gegründete Organisation widmet er sich Fällen in ganz Mittelfranken. Vor allem sollen Therapien unterstützt werden, die die Krankenkassen nicht bezahlen und mit denen betroffene Familien allein finanziell überfordert sind.
Klickt auf das Banner, um alle aktuellen News zur Noris Force Con 4 zu erhalten.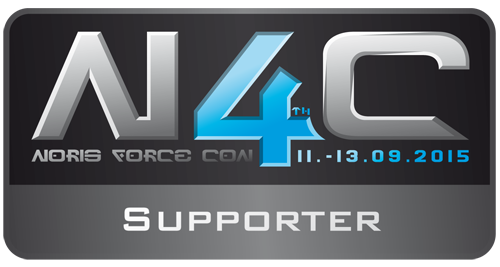 Bei der Noris Force Con steht der Fan im Vordergrund. Es wird Panels und Autogrammstunden mit Schauspielern geben, genauso wie eine Menge Fanstände und Händler zum Stöbern …
Wir von www.starwarscollector.de sind stolz, ein offizieller Unterstützer der Noris Force Con sein zu dürfen und präsentieren Euch auf dieser Special-Seite alle Informationen und stets aktuelle Neuigkeiten zur Convention von den Star Wars Fans Nürnberg.
---
Hardfacts Noris Force Con
Datum
11.-13.09.2015
Location
Gemeinschaftshaus Langwasser
Glogauer Straße 50
90473 Nürnberg, Deutschland
Homepage
www.norisforcecon.de
Gäste Schauspieler
Jeremy Bulloch (Boba Fett)
Dave Prowse (Darth Vader)
Kenneth Colley (Admiral Piett)
Alan Harris (Bossk)
Caroline Blakiston (Mon Mothma)
Dermot Crowley (General Madine)
Alan Flyng (Stormtrooper & Bridge Officer)
Gäste Produktion
Robert Watts (Produzent)
Nick "The Yoda Guy" Maley (Make-Up Artist)
Gäste Autoren & Künstler
Timothy Zahn (Autor)
Hans-Georg Panzczak (Synchronstimme Luke Skywalker)
Susanna Bonaséwicz (Synchronstimme Prinzessin Leia)
Wolfgang Pampel (Synchronstimme Han Solo)
Oliver Döring (Hörspiel Regisseur )
Ila Schnier von Wittich (Produktionsleiterin IMAGA)
Ingo Römling (Comic Artist)
Gäste Vorträge
Robert Vogel (Sci-Fi Vortrag)
Dr. Hubert Zitt (Physik und Technik bei Star Wars)
Andreas Klettke & Christian Krey (Making of "Descendants of Order 66")
Zak Rahman & Paul Johnson (TIE Fighter Animation Video)
Niels M. Frederiksen (LEGO Star Wars Designer)
Alle Informationen zu den angekündigten Gästen, den Programmpunkten und verfügbaren Tickets, den Preisen und den Link zur Direktbestellung findet Ihr auf www.norisforcecon.de.
---
Charity
Während der Noris Force Con wird es auch eine Versteigerung geben, deren Erlös an den Kinderschicksale Mittelfranken e.V. gehen wird. In der folgenden Bildergalerie werden alle Artikel gezeigt, die während der Con unter den Hammer kommen.
Mehr Infos unter www.norisforcecon.de/versteigerung/
---