Bereits vor wenigen Tagen berichteten wir von der endgültigen Ankündigung der Sideshow Ralph McQuarrie Boba Fett Statue via Sideshowtoy.com. Heute ist es nun endlich soweit!
Vor kurzer Zeit wurde die beeindruckende Statue im Maßstab 1:5 vollständig veröffentlicht. Sie wird in zwei verschiedenen Editionen erscheinen, während die Exclusive Edition einen zusätzlichen und weit mehr vertrauten Helm mit Visier in der typischen T-Form beinhaltet.
Dieses Mal wurde jedoch nicht "nur" das Collectible vorgestellt, sondern zusätzlich auch noch Konzeptbilder von Ralph McQuarrie gezeigt, auf deren Grundlage die Statue basiert.
---
Die Sideshow Ralph McQuarrie Boba Fett Statue wird morgen zur Vorbestellung freigegeben und für 424,99 US-Dollar verfügbar sein. Der Pressetext auf Sideshoytoy.com liest sich wie folgt:
Inspired by pre-production artwork for Star Wars: The Empire Strikes Back by visionary illustrator Ralph McQuarrie, Sideshow is proud to present Boba Fett!

Ralph McQuarrie's conceptual drawings and paintings were instrumental in bringing George Lucas' epic space saga to the big screen, envisioning the vast worlds of fantastic heroes, villains, vehicles and aliens that would come to be known as Star Wars.

One of the first new characters to be designed for The Empire Strikes Back, Boba Fett originally began as a super trooper, with a striking aesthetic inspired primarily by Darth Vader and the Stormtroopers. As McQuarrie worked closely alongside Star Wars Art Director Joe Johnston, the character evolved into the ruthless Mandalorian bounty hunter we know today.

Capturing the spirit of these early explorations, Fett appears in his original all-white armor, leaping into action over a base inspired by the Slave I. Reviewing a broad spectrum of McQuarrie's imaginative designs for Boba Fett, Sideshow's artists have translated his iconic artwork in a brilliant homage to a Star Wars that is both familiar, yet never was.
---
Limited Edition
---
Exclusive Edition
---
Zusätzlich zu den wirklich schönen Produktbildern wurde auch noch ein weiteres Bild aller drei bisherigen Ankündigungen der Sideshow Ralph McQuarrie Artist Series gepostet, auf dem natürlich auch die Darth Vader Statue zu sehen ist. Wenn auch im Hintergrund und Schatten, kann man trotzdem schon sehr gut erkennen, wie die nächste Statue der Reihe aussehen wird.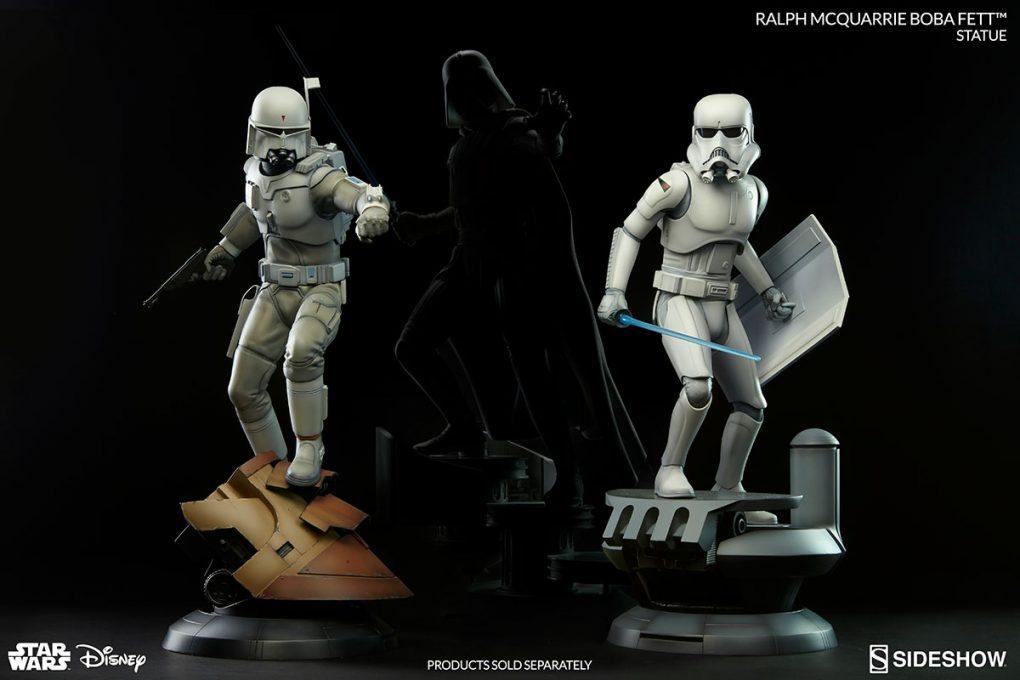 Unser Telegram-Newsletter
Du möchtest zu aktuellen Sammler-News und brandheißen Star Wars-Deals immer direkt auf deinem Smartphone benachrichtigt werden?
Aktuelle Deals bei Amazon.de
---