Auf der Website myfigurecollection.net ist ein Bild einer Tamashii Nations S.H.Figuarts Jabba the Hutt Figur aufgetaucht.
Vom Hersteller selbst sind zumindest online keine offiziellen Informationen bekannt. Das Bild der S.H.Figuarts Jabba the Hutt Figur scheint jedoch von einer Convention zu stammen. Neben dem Namenschild sind nämlich im Spiegelbild der Verglasung weitere S.H.Figuarts Figuren zu sehen.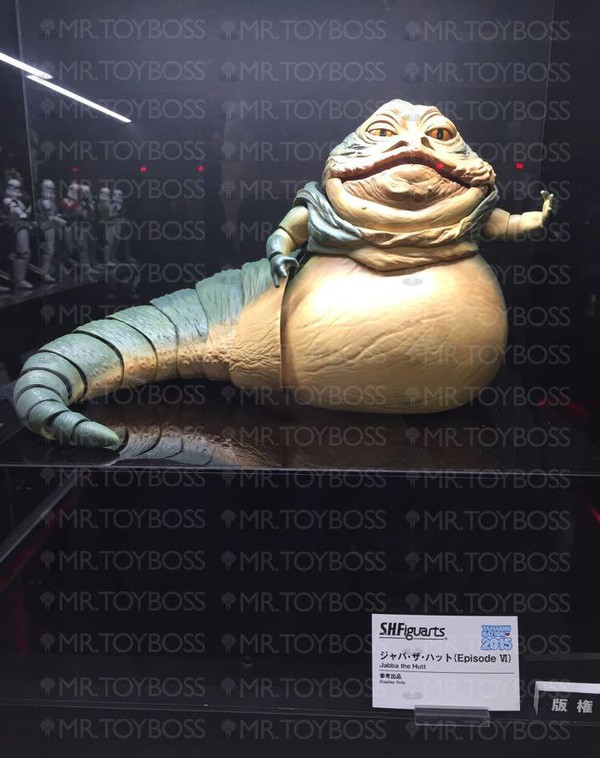 ---
Der S.H.Figuarts Jabba the Hutt wird neben den voll beweglichen Armen und Schwanz scheinbar auch über einen beweglichen Mund verfügen.
Sobald es weitere Informationen aus dem Hause Tamashii Nations gibt, melden wir uns wieder. Dazu sei aber gesagt, dass das Bild aus dem Jahr 2015 stammt (siehe Namenschild). Es kann also durchaus sein, dass die Figur nur ein Test war und niemals umgesetzt wird.
Alle Infos kurz und knapp zu allen bisher veröffentlichten Tamashii Nations S.H.Figuarts Star Wars Figuren findet ihr in unserem Collectors Guide.
Unser Telegram-Newsletter
Du möchtest zu aktuellen Sammler-News und brandheißen Star Wars-Deals immer direkt auf deinem Smartphone benachrichtigt werden?
Aktuelle Deals bei Amazon.de
---