Vor wenigen Tagen wurde ein neuer schwebender Beast Kingdom U-Wing Starfighter zu "Rogue One: A Star Wars Story" veröffentlicht. Die Meldung kam zwar schon am 02. September, aber besser spät als nie.
Genau wie beim bereits veröffentlichten Millennium Falcon, bedient sich Hersteller Beast Kingdom zweier Elektromagnete, um das Vehikel in den schwebenden Zustand zu versetzen. Der Beast Kingdom U-Wing Starfighter schwebt über einer Base mit einem kleinen Hovertank. Die vier Antriebsdüsen sind beleuchtet und die Flügel klappen automatisch ein und aus.
Egg Attack EA-027 Rogue One: A Star Wars Story U-Wing Magnetic Floating Version
With the anticipation of Star Wars fans throughout the globe, Beast Kingdom is pleased to announce the "Egg Attack EA-027 Rogue One: A Star Wars Story U-Wing Magnetic Floating Version", the world's first floating U-Wing unveiled before the release of "Rogue One: A Star Wars Story". The product utilizes unique electromagnetic attraction and repulsion principles to recreate the brand new U-Wing which floats in the air!
True to the film, the mechanical details across the U-Wing are replicated with exquisite detail, as well as the battle damage it has undergone from war. The film-inspired oasis base utilizes the latest wireless power supply system, providing the U-Wing with power in a wireless manner. This propels the U-Wing's unique characteristics, including wings which open and shut automatically and four LED lights in the rear engines which light up, recreating the U-Wing in its full combat glory before you.
For both veteran and fresh Star Wars fans alike, this will surely become the pièce de résistance in your Star Wars collection!!
---
Der Beast Kingdom U-Wing Starfighter soll noch im Jahr 2016 erscheinen und hat die Seriennummer EA-027. Zum Preis ist bis leider noch nichts bekannt. Sobald der U-Wing hierzulande zur Vorbestellung zur Verfügung steht, melde ich mich wieder.
Alle Infos zu allen bisher erschienen Beast Kingdom Star Wars Collectibles findet ihr im Collectors Guide.
Übrigens: Die Limited Edition wird außerdem einen zusätzlichen Stand enthalten, um das Vehikel auch ohne konstante Stromversorgung anschaulich präsentieren zu können. Schöne Idee.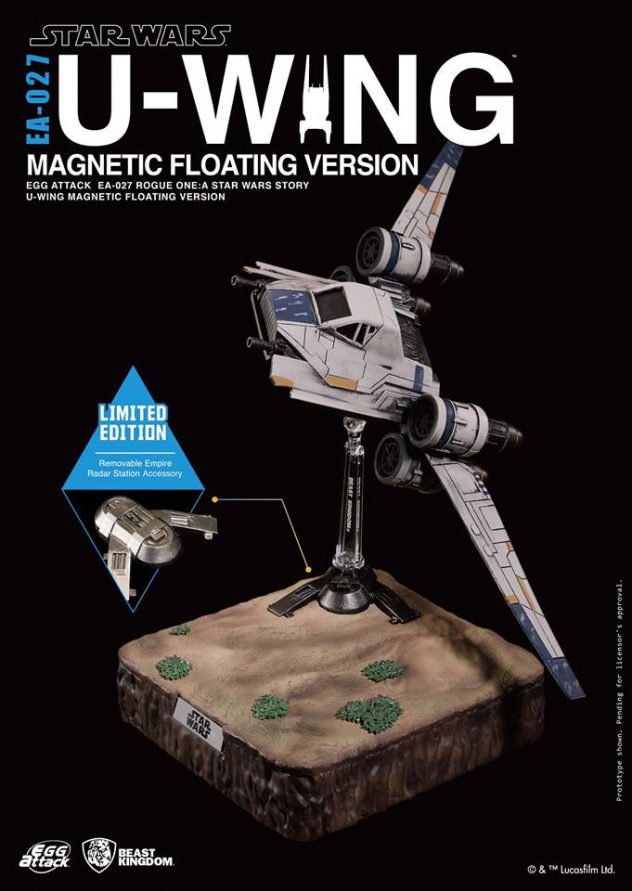 Unser Telegram-Newsletter
Du möchtest zu aktuellen Sammler-News und brandheißen Star Wars-Deals immer direkt auf deinem Smartphone benachrichtigt werden?
Aktuelle Deals bei Amazon.de
---