Vergangene Woche wurden vier Bilder mit Silhouetten der neuen Gentle Giant Premier Guild Member Gifts gepostet. Die Fans und Sammler weltweit konnten spekulieren, welche exklusiven Collectibles in diesem Jahr erhältlich sein werden.
Die Gentle Giant Premier Guild ist ein kostenpflichtiger Zusatzservice für alle Kunden des kalifornischen Herstellers. Für einen kleinen Obolus pro Jahr erhält man Erstzugang zu vielen neuen Veröffentlichungen und eben eines von vier exklusiven Collectibles. In diesem Jahr sind es die folgenden Star Wars Sammlerstücke:
Admiral Ackbar (Episode VII) – Mini Büste
Han Solo in Carbonite Chamber – Jumbo Figur
Shadow Trooper – Classic Büste
Ugnaught – Mini Büsten 2-Pack
Hier nun jeweils ein Bild und ein englischer Pressetxt mit einigen wichtigen Informationen zu jedem Stück.
Admiral Ackbar (Episode VII) – Mini Büste – $80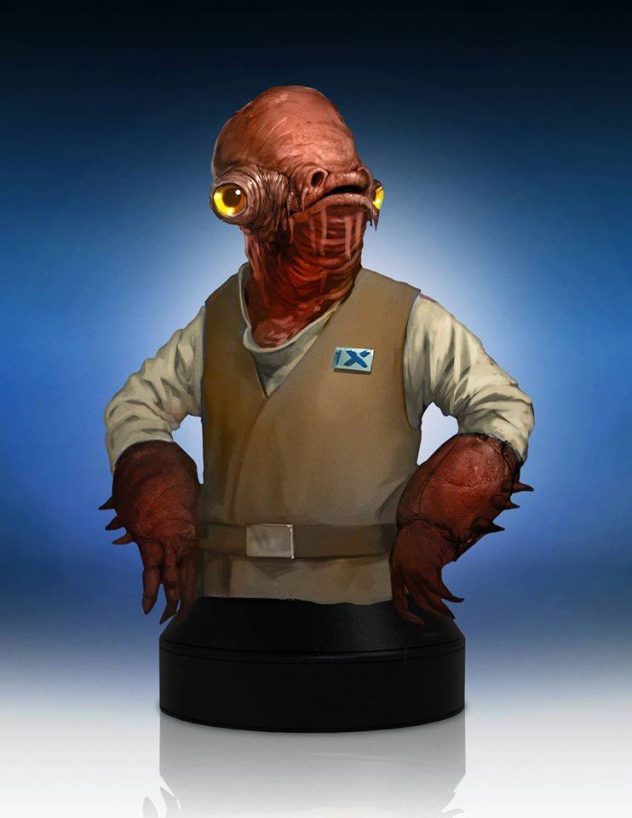 One of the greatest commanders in the history of the Rebel Alliance, as well as the Resistance, Admiral Ackbar was first introduced to fans in Star Wars: Return of the Jedi. Admiral Ackbar became well known for his role in the defeat of the Empire, and the destruction of the second Death Star, as well as his historical declaration "IT'S A TRAP!"

Fans where extremely happy to see the character return, over 30 years later, in Star Wars: The Force Awakens. Facing another planet destroying menace, Admiral Ackbar's strategic prowess comes in to play yet again, in aiding the Resistance to victory.

Gentle Giant Ltd. is proud to present to our Premiere Guild members this deluxe bust of Admiral Ackbar as seen in Star Wars: The Force Awakens. This amazing collectible was digitally sculpted to exacting detail, and has been painted to feature the subtle patterns on his skin that show his aging. This attention to detail brings Ackbar to life once again as an amazing addition to your PGM collection!
---
Han Solo in Carbonite Chamber – Jumbo Figur – $80
Over the past several years we have brought many of our amazing Star Wars Jumbo figures to the collectors. These figures, based off of digital scans of the original toys from the 1980s, have been some of our most hunted collectibles ever. So it's only fitting that we bring our Premier Guild Members the most hunted smuggler in the galaxy, Han Solo!

This incredible version of Captain Solo is based off of the 1984 The Power Of The Force Han Solo in Carbonite Chamber figure. This figure will come complete with his retro backer card, resealable blister packaging, silver coin, and will even include his Carbonite Chamber!!!
---
Shadow Trooper – Classic Büste – $80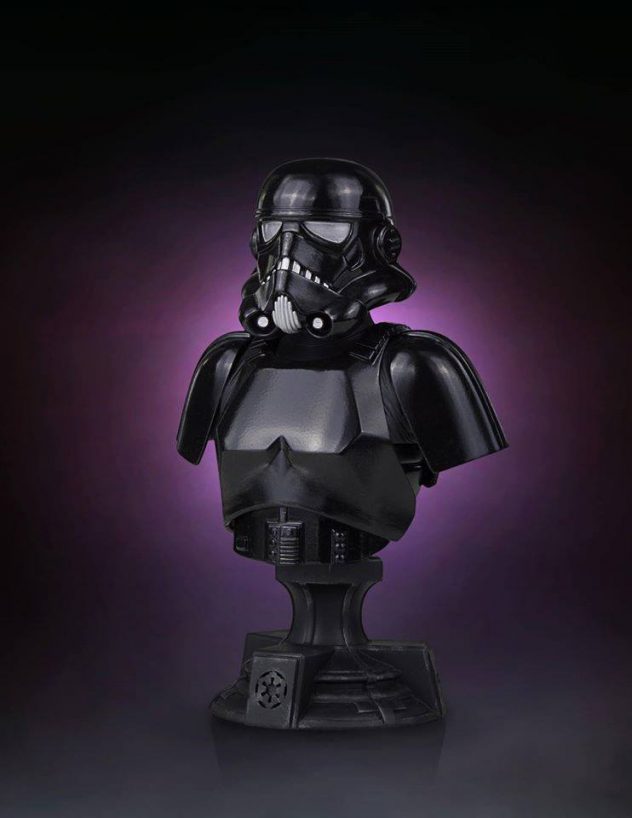 One of the most iconic images of the entire Star Wars Universe is that of a Stormtrooper's white armor. This is one of the reasons that it was so intriguing to see the same armor, painted stark black, appear in the expanded universe as an Imperial Shadow Trooper.

The stories of the Shadow Troopers always shared a common thread of espionage, infiltration and Special Forces. The ominous appearance of their armor has led to many uses of the Shadow Trooper in comics, video games, and other corners of the Star Wars Expanded Universe.
---
Ugnaught – Mini Büsten 2-Pack – $80
The mining colony of Cloud City hovers upon the planet of Bespin. This tibanna gas mining facility is the home for many, but owes its mechanical efficiency to its Ugnaught workers. These short, humanoid creatures, with pig like features, are well known for their mechanical abilities.

When C-3P0 went missing on Cloud City, it was in the company of Ugnaughts that Chewbacca found the dismembered protocol droid. Luckily for C-3P0, Chewy arrived just in time, as the Ugnaughts were inspecting the golden droid's parts in order to decide what to scrap, and what to melt down.

Gentle Giant Ltd. is excited to announce for our Premier Guild members the Ugnaught Mini Bust 2 Pack Mini Bust Set. This incredible mini-bust set depicts two Ugnaught workers inspecting C-3P0's arm and head for scrap, only moments before the parts are confiscated by the heroic Wookiee. Be sure to order this amazing set that does an amazing job at illustrating, yet another, precarious situation that C-3P0 has gotten himself into!
Unser Telegram-Newsletter
Du möchtest zu aktuellen Sammler-News und brandheißen Star Wars-Deals immer direkt auf deinem Smartphone benachrichtigt werden?
Aktuelle Deals bei Amazon.de
---