Wie ihr bestimmt schon wisst, haben wir unseren treuen Hot Wheels Informanten Heiko, der uns stets von neu entdeckten Hot Wheels Star Wars Collectibles berichtet. So auch heute wieder.
Wir haben soeben eine Mail mit einem Hinweis auf ein bisher unbekanntes Hot Wheels Jabba the Hutt Fahrzeug erhalten, welches ebenfalls in der beliebten Reihe der Star Wars Character Cars erscheinen wird. Heiko hat das Fahrzeug ganz zufällig auf der amerikanischen Amazon.com-Seite gefunden. Man klickt sich nämlich erst einmal bis zum ebenfalls neu vorgestellten General Grievous Character Car durch, bevor man dann mehrere Auswahloptionen für weitere Fahrzeuge erhält. Unter anderem ist hier eben auch ein hochauflösendes Pressebild zum Jabba the Hutt Fahrzeug zu finden.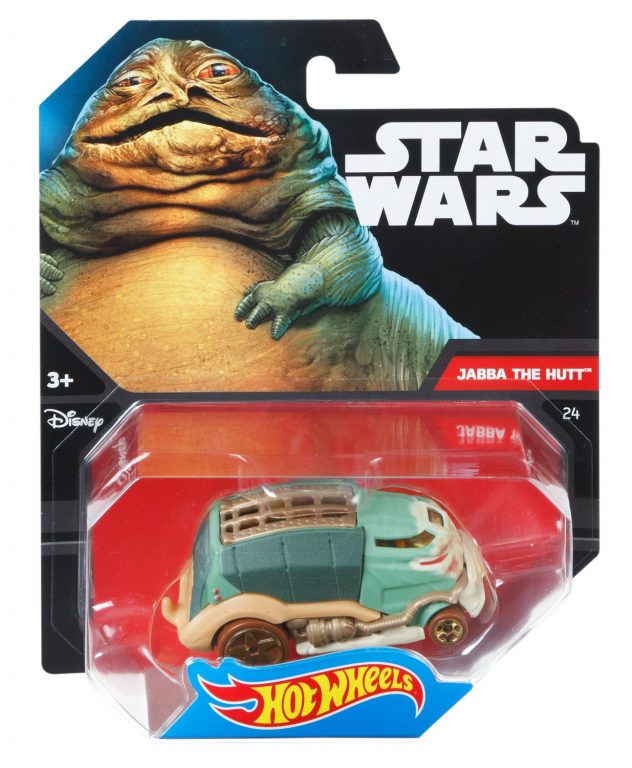 ---
Da das Hot Wheels Jabba the Hutt Character Car in Amerika bereits erhältlich ist, dürfte es hierzulande wohl auch nicht mehr lang dauern. Übrigens ist in der Amazon-Auflistung auch ein erstes hochauflösendes Bild des neuen Han Solo Fahrzeuges zu finden, welches wir natürlich gleich in unserem Collectors Guide eingebaut haben.
Der Youtube Kanal Julian's HW hat bereits ein Review-Video des Fahrzeugs hochgeladen, wodurch ihr noch einmal einen besseren Blick darauf werfen könnt.
[youtube video_id="LTq9ZQEDIio" width="0″ height="0″ ]
---
Heiko war außerdem gestern in seiner örtlichen Müller-Filiale und hat das vor wenigen Tagen besprochene Heroes of the Resistance 5-Pack in der Hand gehabt. Entgegen der Pressefotos sind seiner Aussage nach keine Produktionsmarkierungen auf den Fahrzeugen zu sehen. Damit hätten wir das auch geklärt. Danke Heiko!
Unser Telegram-Newsletter
Du möchtest zu aktuellen Sammler-News und brandheißen Star Wars-Deals immer direkt auf deinem Smartphone benachrichtigt werden?
Aktuelle Deals bei Amazon.de
---