Beim amerikanischen Onlineshop www.bigbadtoystore.com ist vor wenigen Stunden ein Kotobukiya Dagobah Yoda & R2-D2 Set im Maßstab 1:10 veröffentlicht und zur Vorbestellung angeboten worden.
Bis dato ist zwar nur ein einziges Bild hochgeladen worden, dieses sieht aber schon sehr vielversprechend aus. Der R2-D2 ist wie im Film mit Schlamm verdreckt und ca. 9 Zentimeter groß und Yoda ist ca. 5 Zentimeter groß und steht auf seinem Stock gestützt. Zusätzlich wird das Set eine transparente "Spirit Version" des kleinen grünen Jedi-Meisters als Bonus enthalten.
Beide Figuren kommen mit einer Reihe austauschbarer Teile, um sie alternativ darstellen zu können. Welche Teile bzw. Posen das sein sollen, wird vorerst nicht näher beschrieben. Wahrscheinlich werden wir die näheren Details dazu erst sehen, wenn wieder ein großes Bilderalbum des Herstellers veröffentlicht wird.
Das Set hat eine amerikanische UVP von $64.99 und soll bereits kommenden November erscheinen. Wie die Daten für Deutschland und Europa aussehen, kann im Moment ebenfalls nur vermutet werden. Sobald wir hier Neuigkeiten kennen, reichen wir sie aber nach.
Hier nun das bisher einzige Bild des Kotobukiya Dagobah Yoda & R2-D2 ArtFX+ Sets mit dazugehörigem Pressetext: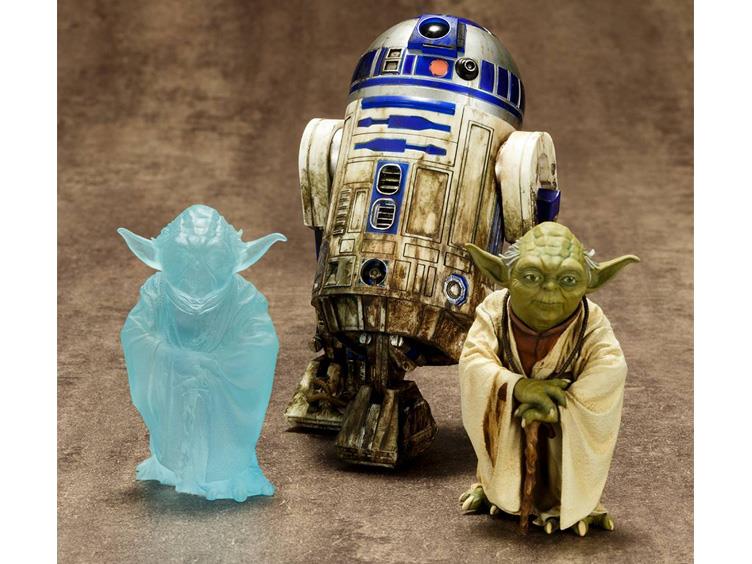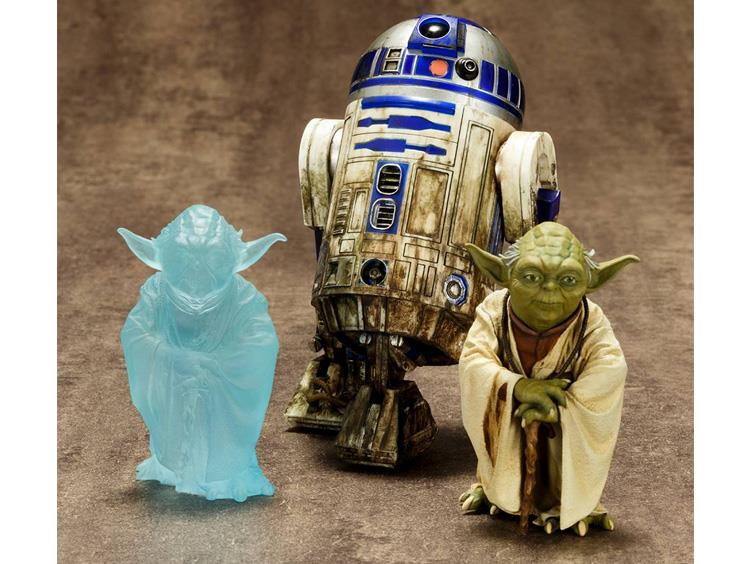 A KOTOBUKIYA Japanese import! Next up in Kotobukiya's amazing line of Star Wars ARTFX+ Statues, bringing the heroes and villains of the Star Wars universe to life in dynamic 1/10th scale statues, is a fun 2 Pack capturing a pair of the most popular (and diminutive) characters in sci-fi. Coming to you directly from Star Wars Episode V: The Empire Strikes Back is the YODA & R2-D2 DAGOBAH 2 PACK! Having exiled himself to hide from the evil Empire, the former head of the Jedi Order waits on the swampy planet of Dagobah where one day a young Jedi hero will find him. And when Luke does arrive he's accompanied by R2-D2, his trusty blue and white astromech droid. This 2 Pack brings together these very different characters so you can recreate scenes from the film, and they look like they stepped right out of the movie. R2's paint and deco reflects his dirt and mud-covered appearance from his time spent on Dagobah, while the wrinkled and hunched Yoda wears his ragged robes and leans on his sturdy gimer stick cane. This pack includes multiple interchangeable parts for both figures so you can display R2-D2 standing on two legs or three, and Yoda with arms crossed and eyes open or reaching out with the Force with his eyes closed in concentration! Lastly, there's even a special bonus, a translucent spirit version of Yoda. Yoda stands 2 ½ inches tall and R2-D2 over 3 ½ inches tall in the ARTFX+ 1/10th scale. This 2 Pack is a must-have for Empire Strikes Back fans, and will give you great new options for your ARTFX+ Star Wars display!
Unser Telegram-Newsletter
Du möchtest zu aktuellen Sammler-News und brandheißen Star Wars-Deals immer direkt auf deinem Smartphone benachrichtigt werden?
Aktuelle Deals bei Amazon.de
---