Bereits vor einigen Monaten haben wir Dank unseres Lesers Heiko vom neuen Hot Wheels Star Wars Heroes of the Resistance Character Cars 5-Packs berichten können, zu dem nun endlich auch ein Bild der Box aufgetaucht ist.
Bisher gab es nur ein Foto der einzelnen Fahrzeuge. Bei Amazon Deutschland sind nun aber endlich zwei hochauflösende Bilder der Box hochgeladen worden. Die Verpackung unterscheidet sich lediglich von den Bildern der enthaltenen Charaktere und der etwas dunkleren Hintergrundfarbe von der vorhergehenden Version. Ansonsten ist die gesamte Aufmachung der Box unverändert geblieben.
Wie schon angekündigt, wird das Maz Kanata Character Car exklusiv nur in diesem Hot Wheels Star Wars Heroes of the Resistance 5er-Pack erhältlich sein.
---
Sollten dies tatsächlich die finalen Produktbilder sein, dürfte sich der Hersteller Mattel hier jedoch ein kleines Eigentor geschossen haben. Während auf dem Bild mit den Einzelfahrzeugen scheinbar noch mit Photoshop gearbeitet wurde, sind auf den Verpackungsbildern eindeutig kleine Produktionsmarkierungen an sehr auffälligen Stellen auf den Fahrzeugen zu sehen.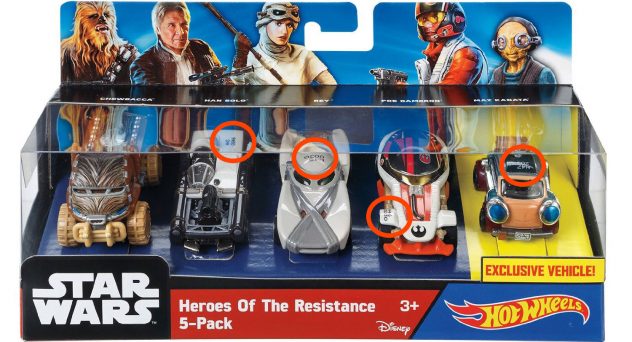 ---
Sollten die Fahrzeuge tatsächlich so in den Ladenregalen stehen, dürfte die anfängliche Euphorie bei den Kids und Sammlern ziemlich gedämpft werden. Wir lassen uns überraschen und posten Fotos, sobald wir das Set in der freien Wildbahn sehen.
Kleine Info am Rand: Vor zwei Tagen wiesen die Kollegen von JediTempleArchives.com auf einen Eintrag im Onlineshop EntertainmentEarth.com hin, in dem scheinbar unabsichtlich der Nachname von Protagonistin Rey verraten worden ist. Ohne ein Bild der Box zu posten, wurde dort nämlich das Hot Wheels Star Wars Heroes of the Resistance 5-Pack zur Vorbestellung angeboten und in der Inhaltsbeschreibung unter anderem "Rey Skywalker" aufgeführt. Wie man auf den neuen Bildern jedoch eindeutig sehen kann, steht nur der Name "Rey" auf der Oberseite der Box. Demnach kann man davon ausgehen, dass der Onlineshop lediglich ein paar Klicks ergattern wollte, was damit wohl gelungen sein sollte.
Alle Informationen und Bilder zu dieser und allen bisherigen Hot Wheels Star Wars Veröffentlichungen findest du in unserem übersichtlichen Collectors Guide.
Unser Telegram-Newsletter
Du möchtest zu aktuellen Sammler-News und brandheißen Star Wars-Deals immer direkt auf deinem Smartphone benachrichtigt werden?
Aktuelle Deals bei Amazon.de
---