Zusammen mit der Liste aller teilnehmenden Händler zum Force Friday wurde auch eine neue Augmented Reality App namens "Find The Force" vorgestellt.

Während des weltweiten Force Friday Events werden bei allen teilnehmenden Händlern diverse Aufsteller und andere Werbemittel ausgestellt sein, auf denen ein kleines rotes "Find The Force"-Symbol abgebildet ist. Mithilfe der Star Wars App und der darin befindlichen Scan-Funktion kann man diese Symbole dann scannen und schaltet einen Charakter aus dem Star Wars Universum frei, der sich nahtlos der Umgebung anpasst und neben dem man sogar Fotos schießen und diese anschließend teilen kann.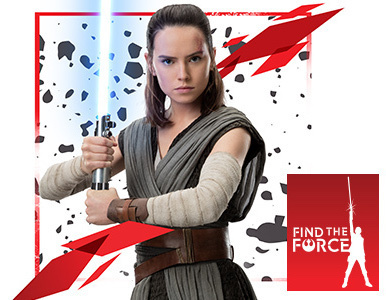 Das Ganze wird als Challenge aufgebaut, indem man möglichst viele Charaktere sammeln und so digitale Prämien freischalten kann. Eine schöne Spielerei, die man auch gleich selbst ausprobieren kann. Scannt einfach das oben stehende Symbol und schaltet euren ersten Charakter frei.
Hier nun noch ein kleines Video, das die Find The Force App ebenfalls vorstellt. Alle Infos findet ihr ebenfalls auf StarWars.de.
Alle Informationen zum diesjährigen Force Friday findet ihr in unserem stets aktuellen Beitrag.
Unser Telegram-Newsletter
Du möchtest zu aktuellen Sammler-News und brandheißen Star Wars-Deals immer direkt auf deinem Smartphone benachrichtigt werden?
Aktuelle Deals bei Amazon.de
---