Unser Partner Gate-to-the-Games hat uns freundlicherweise eine Topps Star Wars The Force Awakens Collector Tin und ein passendes Sammelalbum zur Verlosung an unsere treuen Leser zur Verfügung gestellt. Obwohl der große Star Wars AdventsCollector gerade einen Monat vorüber ist, habt Ihr bei uns also bereits die nächste Möglichkeit auf einen tollen Gewinn.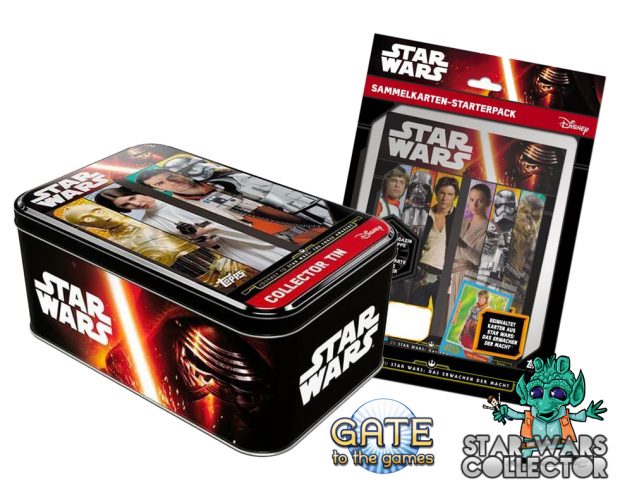 Die neuen Topps Star Wars The Force Awakens Sammelkarten sind seit wenigen Monaten erhältlich und können natürlich wieder in großen Alben gesammelt werden, damit man immer den Überblick behält. Das Album zur aktuellen Serie enthält zusätzlich ein transparentes Booster mit insgesamt 6 Karten, wovon eine eine glänzende Luke Skywalker Karte in limitierter Auflage ist.
Eines dieser Sammelalben und zusätzlich eine tolle Collector Tin könnt Ihr nun mit freundlicher Unterstützung von Gate-to-the-Games.de gewinnen. Die Collector Tin enthält 48 Sammelkarten inklusiver einer besonderen Karte in limitierter Auflage und ist rundherum mit diversen Star Wars Grafiken bedruckt.
Eine Beschreibung des Spiels findet Ihr übrigens in einem Beitrag, den Robert von Gate-to-the-Games vor wenigen Wochen für unsere Seite schrieb.
Um die Chance auf dieses tolle Topps Star Wars The Force Awakens Set mit zwei limitierten Sonderkarten zu erhalten, müsst Ihr nichts weiter tun, als einen Beitrag auf unserer Facebook-Seite mit "Gefällt mir" zu markieren. Unter allen Likes wird am Mittwoch, den 27.01.2016 um 20:00 Uhr eine Gewinnerin oder ein Gewinner gezogen und direkt angeschrieben.
Hier ist der Beitrag, um den es geht. Viel Glück!
Unser Telegram-Newsletter
Du möchtest zu aktuellen Sammler-News und brandheißen Star Wars-Deals immer direkt auf deinem Smartphone benachrichtigt werden?
Aktuelle Deals bei Amazon.de
---