Wie bereits in mehreren News-Beiträgen und Facebook-Posts erwähnt, gibt es nun endlich Details und Bilder zur neuen beeindruckenden XM Studios Boba Fett Statue.
Der singapurische Hersteller hat vor wenigen Tagen ein Album mit insgesamt 14 Bildern veröffentlicht und einige Details bekannt gegeben. Die XM Studios Boba Fett Statue wird, ähnlich der Statuen aus der beliebten Sideshow Premium Format Reihe, im großen Maßstab 1:4 gefertigt und in einer sehr actionreichen Szene dargestellt. Zur Unterstützung dieser Action werden zusätzliche Arme und Hände mit verschiedenen Waffen und Flammenwerfern enthalten sein.
---
Die Vorbestellung wird am 15. Juli 2016 um exakt 00:00 Uhr (also am 14. Juli, 18:00 Uhr unserer Zeit) zu einem stattlichen Preis von 999 Singapur Dollar angeboten. Eine Umrechnung in Euro ist an der Stelle zwar erwähnenswert – sie beträgt aktuell exakt 666,49 € – aber für den voraussichtlichen Preis hierzulande nicht weiter wichtig. Diverse Restriktionen sorgen nämlich dafür, dass die XM Studios Boba Fett Statue ausschließlich für den südasiatischen Markt erhältlich sein wird. Vom Hersteller heißt es dazu:
Only permitted for sales in south east Asia. We wish we can sell to more but this is how the territory restrictions rules work and we need to respect that.
Sammler hierzulande werden also den unbequemen Weg über eBay & Co. gehen müssen, um eines der begehrten Exemplare zu ergattern. Wenn dort überhaupt ein Exemplar auftaucht. Zur voraussichtlichen Auflage und dem Erscheinungstermin des schönen Sammlerstücks ist derzeit noch nichts bekannt, wir sagen aber Bescheid, wenn die ersten Infos hierzu da sind.
Zum besseren Vergleich hier noch ein Bild des Herstellers während der Produktion des Modells. Zu beachten ist, dass hierbei noch die große Base fehlt. Die Statue wird also ziemlich groß.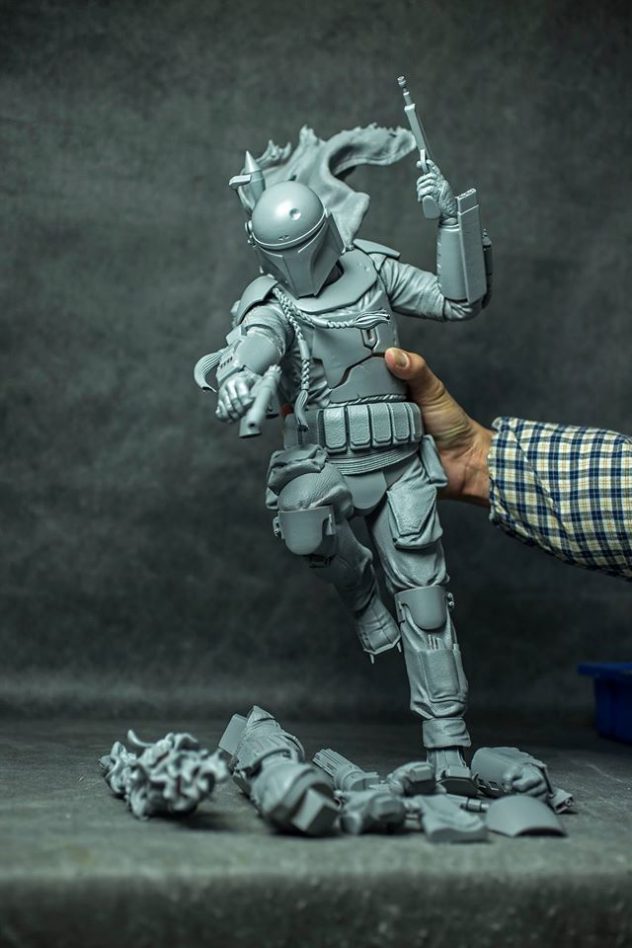 ---
Alle Infos zur XM Studios Boba Fett Statue und zwei weiteren Ankündigungen des High Quality Herstellers findet ihr im Collectors Guide.
Unser Telegram-Newsletter
Du möchtest zu aktuellen Sammler-News und brandheißen Star Wars-Deals immer direkt auf deinem Smartphone benachrichtigt werden?
Aktuelle Deals bei Amazon.de
---