Während der New York Toy Fair im vergangenen Februar wurde sie zum ersten Mal vorgestellt, nun ist sie auch offiziell angekündigt worden. Die neue Gentle Giant 4-LOM Collector's Gallery Statue im Maßstab 1:8 ist ab sofort im Onlineshop des Herstellers vorbestellbar.

---
Die sogenannte Collector's Gallery Statues-Serie des amerikanischen Herstellers Gentle Giant wurde Ende 2016 mit einer schicken Darth Vader-Statue ins Leben gerufen. Seitdem sind vor allem die Kopfgeldjäger aus Episode V ein großes Thema. Nach Boba Fett, Zuckuss, IG-88 und Bossk hat nun auch 4-LOM sein Debüt im Maßstab 1:8.
Die Gentle Giant 4-LOM Collector's Gallery Statue kann ab sofort für $159.99 vorbestellt werden. Die regionalen Onlineshops sollten in den nächsten Tagen dann auch die unverbindliche Preisempfehlung für den deutschen Markt kennen. Ich gehe aktuell von rund 200 € aus. Zum erwarteten Erscheinungsdatum gibt es bisher komischerweise gar keine Informationen.
4-LOM, a rusty droid with insect-like features, was originally a protocol droid, but logic glitches in his systems allowed him to escape and forgo his original programming and become a fearsome bounty hunter. 4-LOM is one of the bounty hunters summoned by the Empire to meet with Darth Vader aboard his mighty flagship, The Executor. 4-LOM was paired with Zuckuss to find Han Solo and the Millennium Falcon but they were beaten to their prey by fellow bounty hunter Boba Fett. Here we find 4-LOM later in his story standing in the sands of Tattooine, searching for his next bounty… but who is his prey now?

4-LOM is the fourth statue in Bounty Hunter 1:8th Collector's Gallery line celebrating over 40 years of the Star Wars universe. Each limited edition, hand-painted piece is cast in high quality polyresin with crisp details. This statue also comes individually numbered with a matching certificate of authenticity.
Die Pose der Statue wurde übrigens noch einmal verändert, nachdem sie in New York ausgestellt war. Der Prototyp hielt den Blaster nach oben.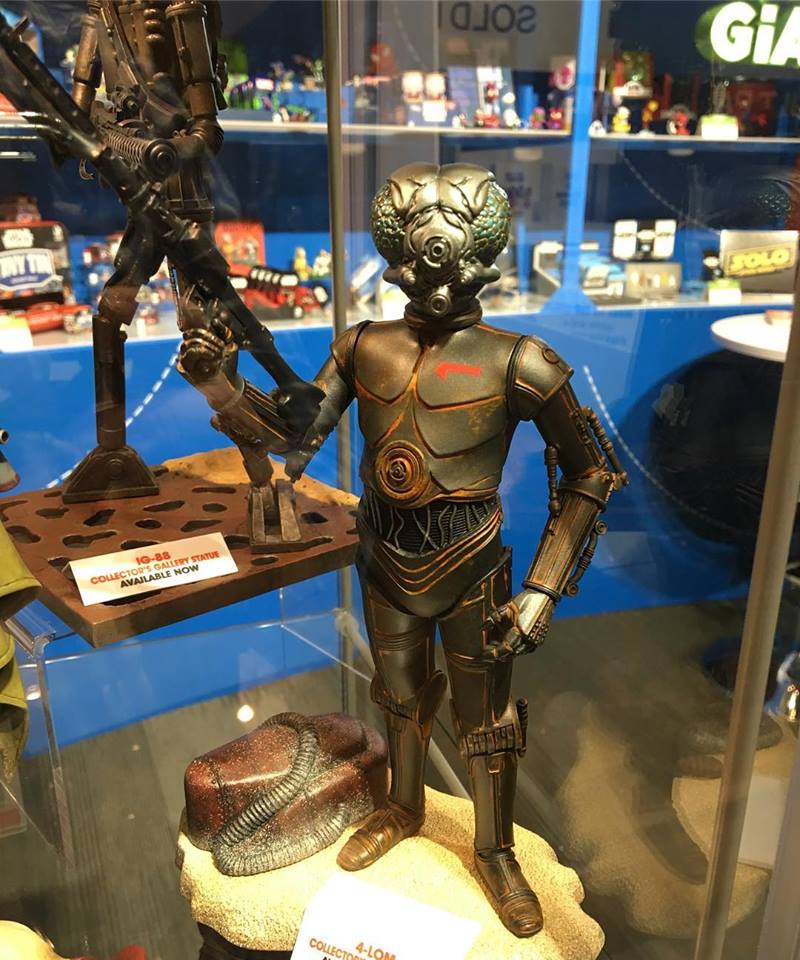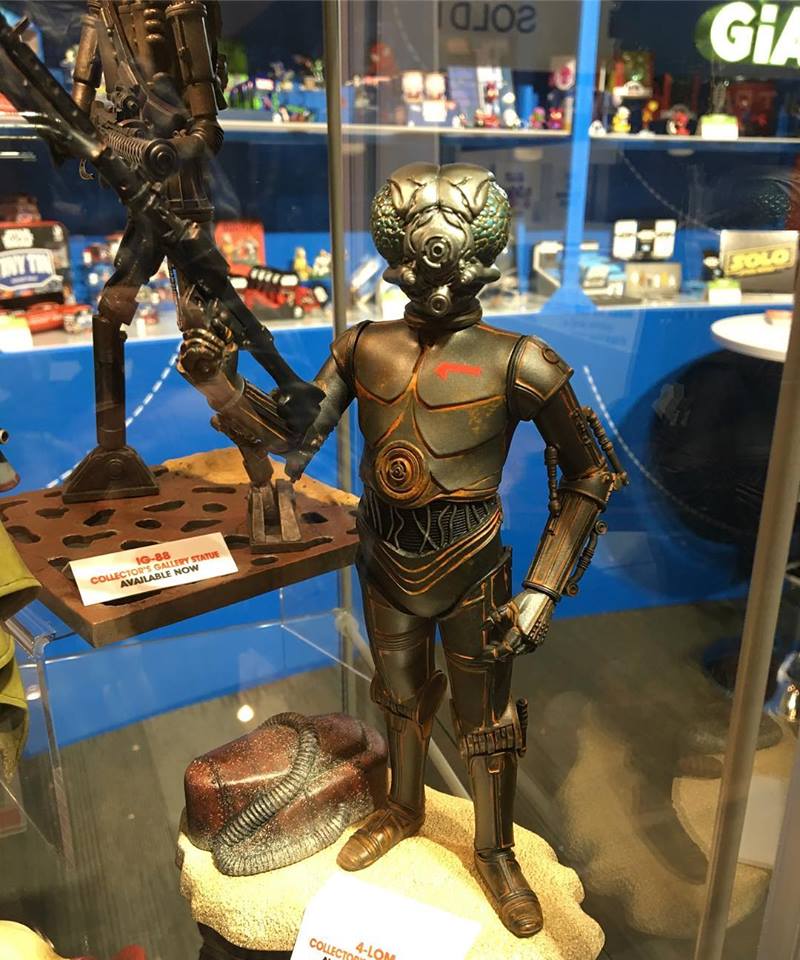 ---
Die wichtigsten Informationen zu allen bisher veröffentlichten Gentle Giant Star Wars Collector's Gallery Statues erhaltet ihr kurz und knapp in unserem Collectors Guide.
Unser Telegram-Newsletter
Du möchtest zu aktuellen Sammler-News und brandheißen Star Wars-Deals immer direkt auf deinem Smartphone benachrichtigt werden?
Aktuelle Deals bei Amazon.de
---