Vor knapp drei Monaten wurde die kommende Noris Force Con 5 erstmals offiziell bestätigt. Seitdem hat sich viel getan um die Charity-Convention der Star Wars Fans Nürnberg. Heute Mittag wurde nun bereits der vierte Stargast angekündigt.

---
Der amerikanische Darsteller, Puppenspieler und -bastler Tim Rose wird im September in Fürth zu Gast sein. Den Star Wars Fans weltweit ist Tim Rose als "Admiral Ackbar" aus den Filmen "Return of the Jedi", "The Force Awakens" und "The Last Jedi" bekannt. Tim Rose hat allerdings noch weiteren Figuren aus dem Star Wars-Universum Leben eingehaucht – aber lest einfach selbst.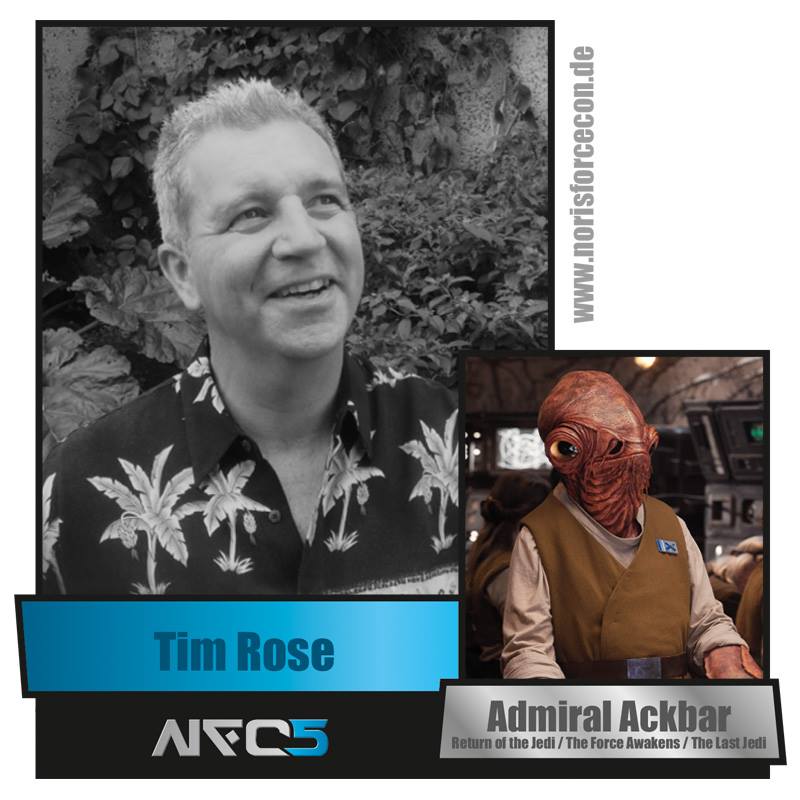 Tim Rose begann seine Karriere mit Jim Henson in New York als sie an der Sesamstraße arbeiteten. Er war einer der Vorreiter im Animatronic-Design und ist auch heute noch sehr gefragt.
Die Filme an denen er mitwirkte umfassen unter anderem etliche Muppet-Filme, Der Dunkle Kristall, Doctor Who und den unvergessenen Howard the Duck.
Im Star Wars Universum ist er aber vor allem als Admiral Ackbar bekannt, den er erstmals in "Rückkehr der Jedi-Ritter" porträtierte. Eine Rolle die er mehr als 30 Jahre später in "Das Erwachen der Macht" und "Die Letzten Jedi" erneut aufnahm.
Neben dem Rebellenanführer war er auch einer der wichtigsten Puppenspieler am Set von "Rückkehr der Jedi-Ritter" und hauchte unter anderem auch Sy Snootles und Salacious Crumb Leben ein. In "Rogue One: A Star Wars Story" spielte er den weißen Mon Calamari Shollan, der unter Admiral Raddus diente.
Wir freuen uns auf spannende Einblicke auf verschiedenste Aspekte seiner langjährigen Tätigkeit im Star Wars Universum!
Übrigens: Der "Early-Bird"-Vorverkauf der Wochenendtickets für die Noris Force Con 5 läuft noch bis zum 28. Februar. Bis dahin spart ihr 15,00 € für das gesamte Wochenende. Alle Infos findet ihr im entsprechenden Artikel.
---
Starwarscollector.de ist offizieller Supporter der Noris Force Con 5 – der "Star Wars Charity Convention von Fans für Fans". Alle Informationen findet ihr auf unserer Event-Seite oder auf norisforcecon.de.