Update vom 07.07.2018: Mittlerweile hat der Hersteller auch einen ersten Blick auf die Figur gewährt. So wissen wir zumindest schon mal, dass es sich dabei nicht um eine Neuauflage handelt. Danke an Wolfgang für den Hinweis.

---
Ursprünglicher Beitrag vom 05.07.2018: Hersteller Sideshow Collectibles hat vor wenigen Minuten eine Yoda-Figur im Maßstab 1:6 angekündigt. Die Figur soll ab dem 17. Juli direkt ab Lager verfügbar sein und eine Aktionsseite zum Start der Bestellphase ist auch schon eingerichtet.
Sehr ungewöhnlich hierbei ist der Fakt, dass die Figur offenbar ohne vorherige Ankündigung in einer gewissen Stückzahl produziert wurde. Dies wiederum könnte darauf hinweisen, dass es sich entweder um eine Neuauflage handelt oder um ein Exclusive für die bevorstehende San Diego Comic Con.
Die letzte Yoda Sixth Scale Figur aus dem Hause Sideshow Collectibles war die "Jedi Master"-Interpretation mit dem Stuhl aus dem Rat der Jedi, welche im September 2013 erschien. Ich kann mir kaum vorstellen, dass hiervon eine Neuauflage produziert wird. Allerdings wird im kurzen Teasertext auch nur von "Sideshow's Yoda Sixth Scale Figure" gesprochen. Nicht ein einziges Mal wird das Wort "new" benutzt.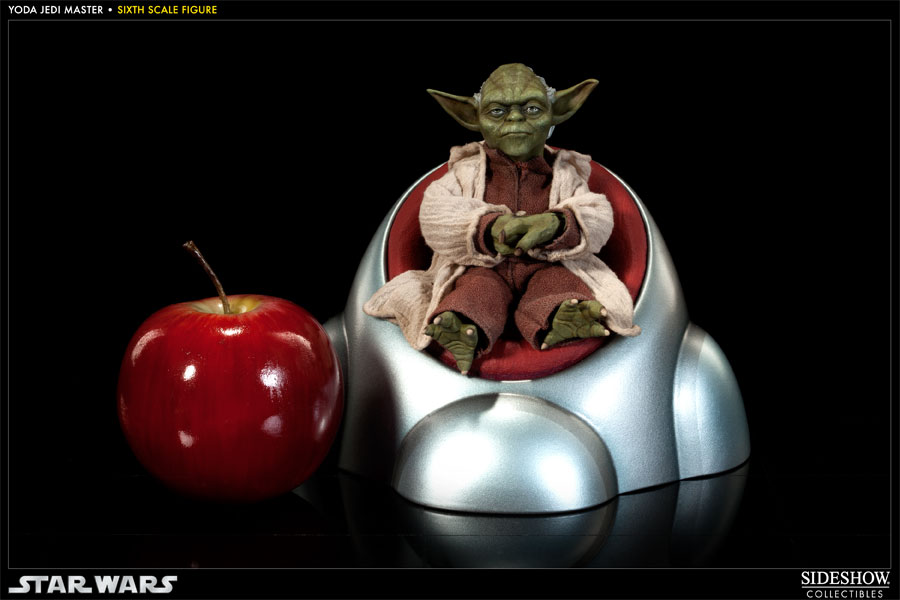 ---
Für ein SDCC-Exclusive spricht das Startdatum der Bestellphase, welches exakt einen Tag vor Start der Convention in San Diego liegt. Außerdem ist es zur SDCC typisch, kurz vorher Collectibles anzukündigen, die dann wenig später direkt am Stand des jeweiligen Herstellers verfügbar sind. Dagegen spricht jedoch der eben erwähnte Teasertext, in dem nirgends von einem "neuen" Yoda die Rede ist.
Hier die Ankündigung des Herstellers. Klickt auf das Bild und gelangt direkt zur Aktionsseite, auf der ihr euch eine Erinnerung einrichten oder aber an einem Gewinnspiel teilnehmen könnt.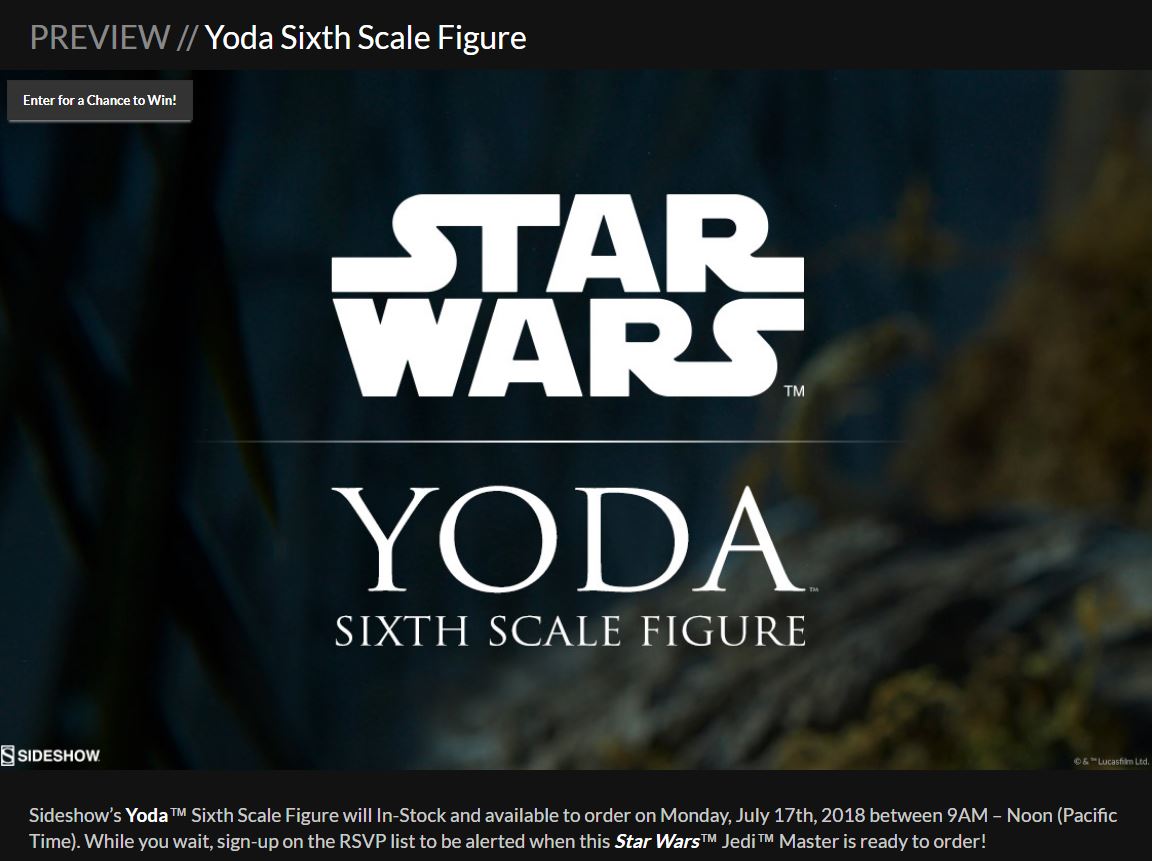 Was denkt ihr? Neuauflage oder Exclusive? Oder interpretiere ich in diese "In-Stock and available to order"-Sache zuviel hinein?
Die wichtigsten Informationen zu allen bisher veröffentlichten Sideshow Star Wars 1/6 Scale Figuren findest du kurz und knapp in unserem Collectors Guide.
Unser Telegram-Newsletter
Du möchtest zu aktuellen Sammler-News und brandheißen Star Wars-Deals immer direkt auf deinem Smartphone benachrichtigt werden?
Aktuelle Deals bei Amazon.de
---