28.01.2021:
Neuauflage zur Vorbestellung verfügbar
Seit wenigen Stunden kann die längst vergriffene Luke Skywalker Deluxe 1/6th Scale-Figur von Hersteller Sideshow Collectibles ganz überraschend noch einmal vorbestellt werden. Laut den Angaben unseres Partners Zavvi Deutschland wird dabei nochmal eine begrenzte Menge als Neuauflage zur Vorbestellung angeboten, wobei das Zeitfenster zur Bestellung relativ kurz sein wird. Die unveränderte Neuauflage soll dann nämlich bereits Ende Juni dieses Jahres versandbereit sein.
Dank Zavvi können wir euch an dieser Stelle auch einen exklusiven Rabatt-Code zur Verfügung stellen.
Mit dem Code EXKLLUKEDE könnt ihr bis zum 04.02. um 13:00 Uhr bestellen, ohne zusätzliche Lieferkosten zahlen zu müssen. Nach Eingabe des Codes werden euch direkt 8,00 € abgezogen, die ihr im nächsten Schritt dann mit dem Versand mit Sendungsverfolgung verrechnen könnt.
---
26.03.2018:
Finale Produktbilder veröffentlicht
Ein Jahr und zwei Monate nach der ersten Vorstellung einer neuen Luke Skywalker 1/6 Scale Deluxe-Figur aus dem Hause Sideshow Collectibles hat der Hersteller heute die offiziellen Bilder des fertigen Produkts veröffentlicht. Hier ein Auszug:
Zum ersten Mal wurde dabei ganz offensichtlich darauf geachtet, exakt die Posen des Prototyps aus der ursprünglichen Präsentation nachzustellen. Jedoch fällt dabei umso mehr auf, dass der Headsculpt der fertigen Figur von dem der ersten Version abweicht. Hier sind mal wieder einige Direktvergleiche, damit ihr euch selbst ein Bild machen könnt.
---
---
26.01.2018:
Offiziell vorgestellt
Gestern Abend wurde völlig unerwartet eine brandneue Sideshow Luke Skywalker Deluxe Sixth Scale Figur vorgestellt und direkt zur Vorbestellung angeboten. Die Besonderheit an der Neuvorstellung ist die große Menge an mitgeliefertem Zubehör, mit dem man die Figur in gleich drei Varianten präsentieren kann.
Mit diversen Umhängen, einem Endor-Helm, verschiedenen austauschbaren Händen sowie einer Blasterpistole und seinem Lichtschwert kann man die drei möglichen Outfits "Jabba's Palace Luke", "Endor Luke" und "Jedi Knight Luke" darstellen.
Für den vergleichsweise sehr moderaten Preis von $235.00 soll die neue Sideshow Luke Skywalker Deluxe 1/6 Scale Figur bereits im Dezember 2018 erscheinen und kann ab sofort vorbestellt werden.
Hier nun ein Auszug des riesigen Bilderalbums, sowie die wichtigsten Informationen und der Pressetext des Herstellers.
The Force is strong with this one. Sideshow is proud to present the Luke Skywalker Deluxe Sixth Scale Figure from Star Wars Episode VI: Return of the Jedi.

The Luke Skywalker Deluxe Sixth Scale Figure captures Luke's journey through Return of the Jedi with an incredible variety of customizable display options.  Recreate key scenes from the Star Wars saga with the three distinct looks included with the Luke Skywalker Deluxe figure- Jabba's Palace Luke, Endor Luke, and Jedi Knight Luke.

Travel to Jabba's Palace with the Jedi Knight Luke Skywalker in disguise. Featuring a detailed portrait of the character's appearance in Star Wars Episode VI, Luke Skywalker wears a hooded brown cloak over his iconic black Jedi outfit, including a long sleeve shirt and pants. The figure also includes the gray tunic and sash as worn while infiltrating the thuggish gangster's stronghold. Remove the gray tunic and attach Luke's black leather-like belt with a pouch and saber hook to recreate his Jedi look from his final showdown with Darth Vader.

Then, hop on a speeder and travel to the forest moon of Endor with Luke Skywalker dressed in his belt and camouflage poncho, along with articulated black boots. The figure includes a portrait with the detailed likeness of Luke Skywalker wearing a non-removable Commando Helmet.  Evade Scout Troopers and save the Rebellion with the Endor Luke look.

The Luke Skywalker Deluxe Sixth Scale Figure also includes eleven different swap-out hands in a variety of poses including Force Gesture hands, bare and gloved fists, and assorted grip hands for holding his DL-18 Blaster Pistol or lightsaber with removable blade.

Witness the Return of the Jedi- to your collection! Add the Luke Skywalker Deluxe Sixth Scale Figure to your galaxy of Star Wars collectibles today.
---
Sehr interessant ist übrigens der Fakt, dass vor gut sechs Monaten bereits eine Luke Skywalker 1/6 Scale Figur aus dem Hause Hot Toys veröffentlicht wurde, welche im August dieses Jahres erscheinen soll. Normalerweise kommen sich die beiden Hersteller bei ihren Veröffentlichungen nicht in die Quere. Wir sind gespannt, was das in Zukunft für die Lizenz und die Preise der Collectibles bedeutet.
Hier mal ein Vergleich der Headsculpts – links Hot Toys, rechts Sideshow. Welchen findet ihr besser?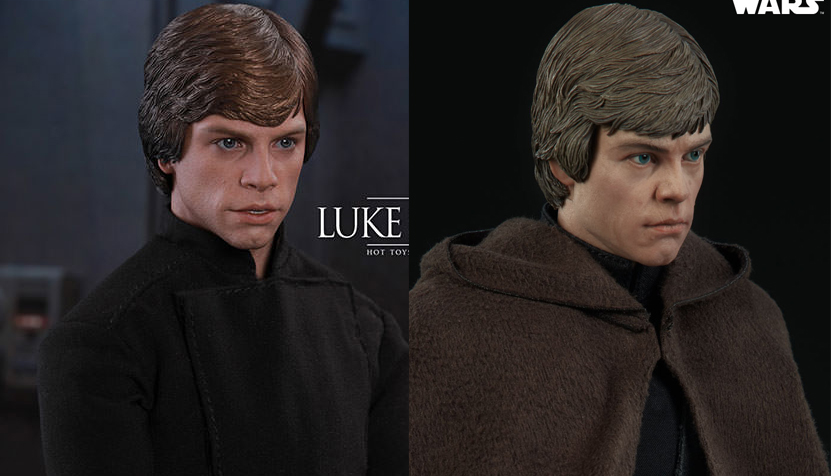 ---
Die wichtigsten Informationen zu allen bisher veröffentlichten Sideshow Star Wars 1/6 Scale Figuren findest du kurz und knapp in unserem Collectors Guide.
Unser Telegram-Newsletter
Du möchtest zu aktuellen Sammler-News und brandheißen Star Wars-Deals immer direkt auf deinem Smartphone benachrichtigt werden?
Aktuelle Deals bei Amazon.de
---
[/vc_column_text]