Ganz ohne Vorwarnung wurden heute auf der hauseigenen Website des Herstellers die Sideshow R2-D2 & C-3PO Legendary Scale Figuren zur weltweiten Vorbestellung freigegeben. Allerdings einzeln und zu einem satten Preis.
Die Legendary Scale Serie von Sideshow Collectibles besticht durch ihren sehr großen Maßstab von 1:2 und den Einsatz diverser Materialien wie Kunststein, Stoff oder Metall, um die Collectibles möglichst lebensecht darzustellen. Zur Figures-Reihe, in der bis dato nur zwei Figuren erschienen und eine weitere angekündigt sind, gesellen sich seit heute also R2-D2 & C-3PO.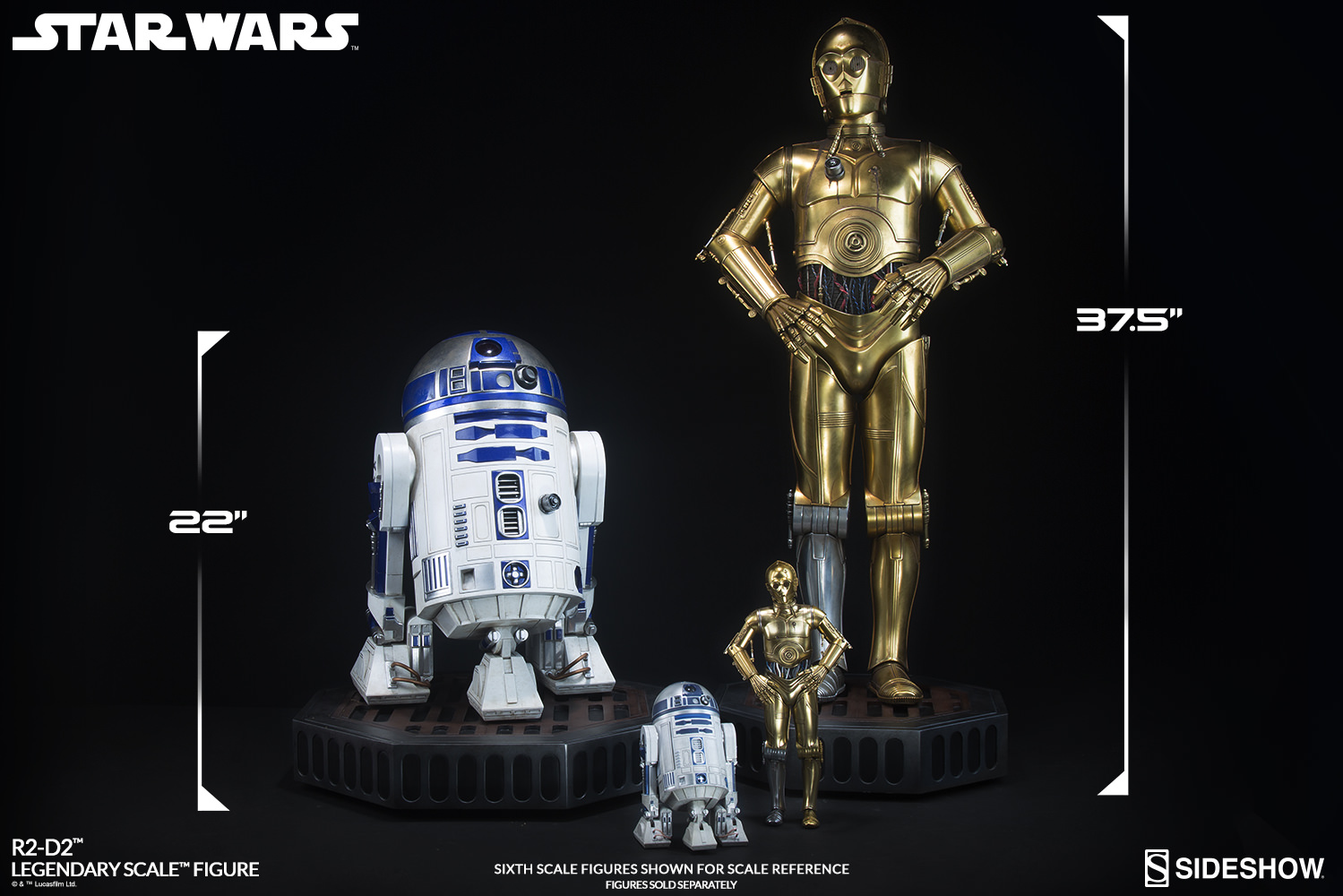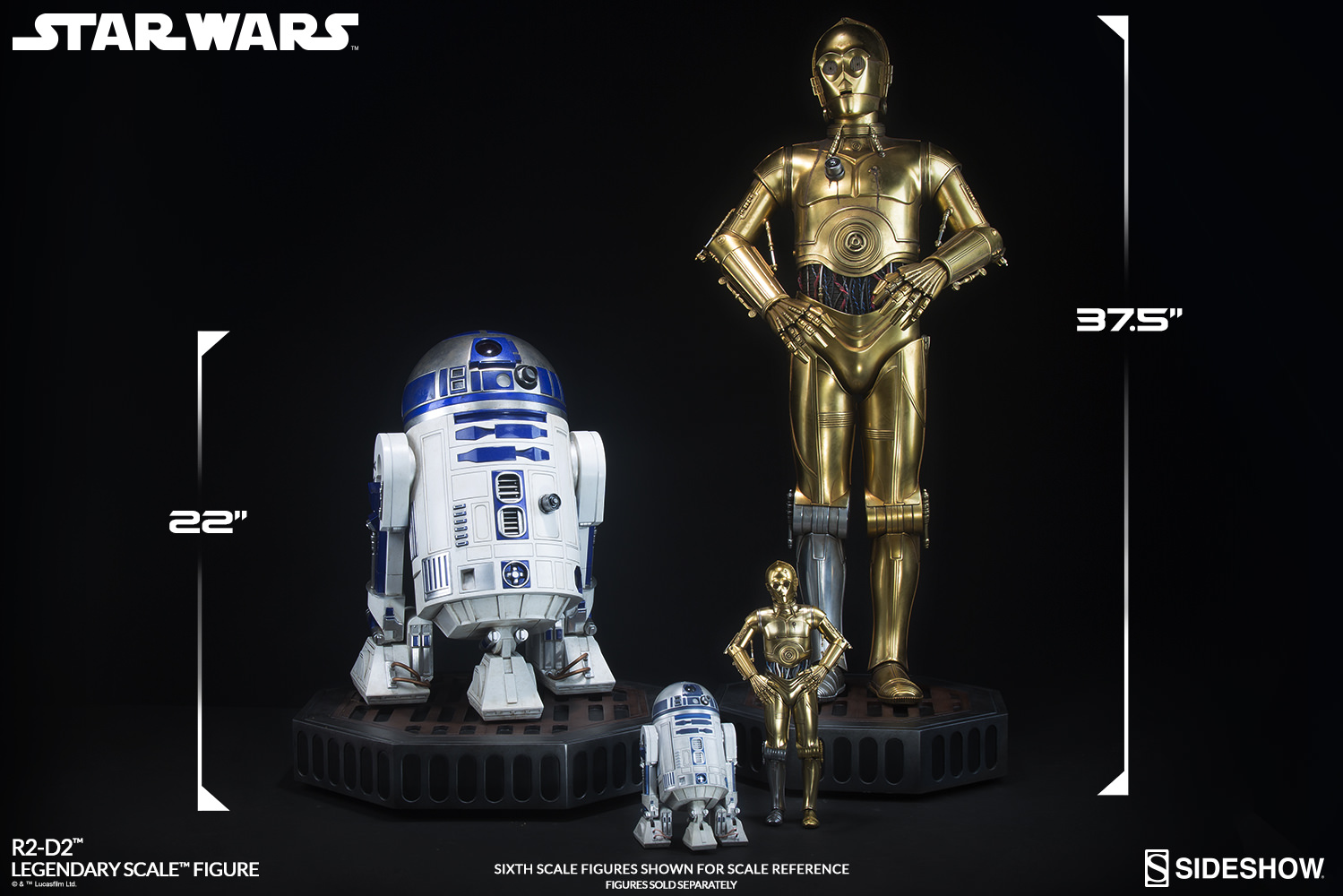 ---
Sideshow R2-D2 Legendary Scale Figure
Artikelnummer: 400155
Preis: $2,000.00
vorauss. Erscheinung: Juli 2017
Größe: 55,88 Zentimeter hoch
To say that R2-D2 is only an astromech droid is selling this stalwart companion and adventurer short. True Star Wars fans know that without R2 there is a very real chance that the Rebellion itself would have ended in disaster. After all, it isnt every day that an overweight glob of grease is the one that saves the day.

Sideshows limited edition R2-D2 Legendary Scale Figure stands just under 2 tall and perfectly captures the digital soul of this iconic Star Wars character. Featuring a light-up head, articulated dome, reversible shoulder covers and magnetic restraining bolt, this statue is a perfect 1:2 scale representation of everyones favorite rolling blue astromech.
---
Sideshow C-3PO Legendary Scale Figure
Artikelnummer: 400153
Preis: $2,250.00
vorauss. Erscheinung: April 2017
Größe: 97,16 Zentimeter hoch
C-3PO may have begun his existence as nothing much more than a protocol droid, but we know better. We know that in his cursed metal body are the circuits of a would-be hero to the Rebellion. Well, if not a hero exactly, the constant friend and companion to R2.

The limited edition C-3PO Legendary Scale Figure by Sideshow is a breathtaking representation of our favorite interpreter. This 1:2 scale figure stands at just over 3 tall and is rich with screen accurate details and accessories such as:

Light-up eyes
Magnetic restraining bolt
Articulated head
Removable hip screw
Interchangeable shoulder O-rings
The combination of accessories allows proud owners to display C-3PO in the configuration that they most identify with from the movies.

Experience what it is to have your own Star Wars protocol droid at your beck and call he won't even tell you the odds.
---
Die R2-D2 & C-3PO Legendary Scale Figuren sind also ab sofort auf der Sideshow Website zur weltweiten Vorbestellung verfügbar. Und es dauert nicht mehr lang, dann findet ihr auch alle weiteren Informationen im Collectors Guide.
Unser Telegram-Newsletter
Du möchtest zu aktuellen Sammler-News und brandheißen Star Wars-Deals immer direkt auf deinem Smartphone benachrichtigt werden?
Aktuelle Deals bei Amazon.de
---