Gestern wurden endlich die ersten Bilder der lackierten Sail Barge präsentiert. Um die Werbetrommel weiterhin zu rühren, hat Hersteller Hasbro nach vielen Bildern des grauen Prototypen endlich auch eine lackierte Segelbarke präsentiert. Doch das war noch nicht alles.

---
Wie aufmerksame Verfolger der Projekts schon längst wissen, wird zusammen mit der Sail Barge eine neue exklusive Vintage Collection Jabba the Hutt 3.75″-Figur veröffentlicht. Ebenfalls wurde vorab mitgeteilt, dass im Frühjahr 2019 eine Yak Face 3.75″-Figur für die beliebte Serie des Herstellers kommen wird. Um den Anreiz auf die Sail Barge weiterhin zu erhöhen, wurde gestern jedoch noch eine weitere Neuigkeit präsentiert.
Zusätzlich zur Jabba-Figur wird nun auch Yak Face direkt im Lieferumfang der Segelbarke enthalten sein. Allerdings nicht auf der kommenden Vintage Collection-Karte wie man sie auch im Handel finden wird, sondern auf einer limitierten "Power of the Force"-Karte mit zusätzlichem Collectors Coin.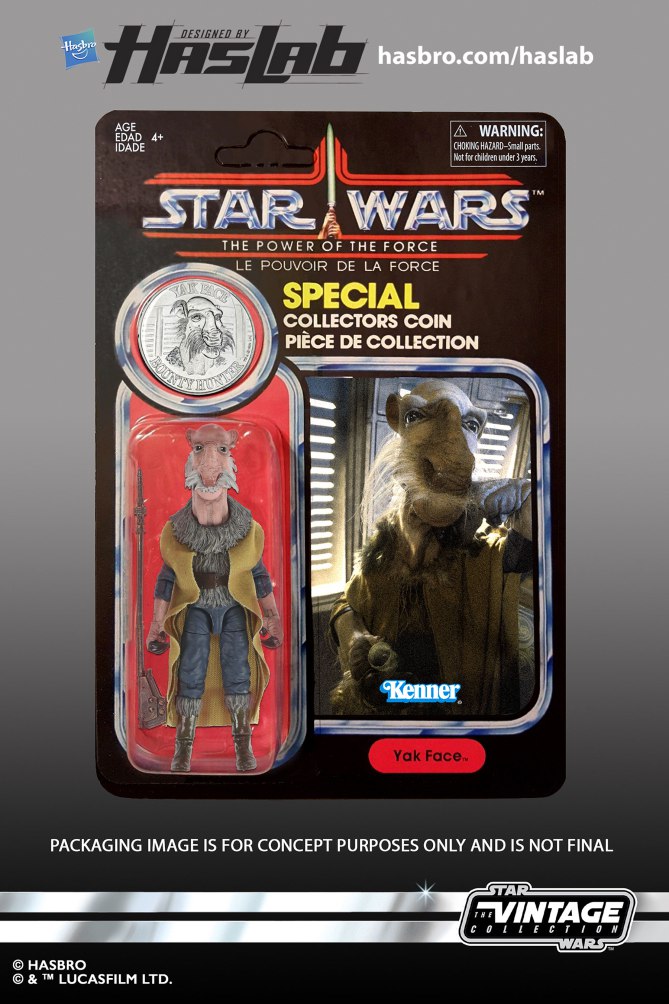 ---
Gestern Abend ist der neue Zwischenstand auf hasbrolab.com übrigens erstmals auf mehr als 3.000 Supporter gestiegen. Es bleibt also weiterhin spannend.
Alle Informationen und bisher veröffentlichten Bilder zur Vintage Collection Sail Barge findet ihr ganz übersichtlich im neuen HasLab-News-Archiv. Im "The Vintage Collection"-Guide wird die Sail Barge aber erst aufgenommen, wenn das Projekt erfolgreich war.
Unser Telegram-Newsletter
Du möchtest zu aktuellen Sammler-News und brandheißen Star Wars-Deals immer direkt auf deinem Smartphone benachrichtigt werden?
Aktuelle Deals bei Amazon.de
---